Top 12 CBSE schools in India Updated (2023)
September 12, 2020 | 2:27 PM
By Dimple Motwani
Best CBSE schools in India
What comes to your mind first when you first think of education?
Good Schools? Curriculum?
Most of the young students today have access to lots of opportunities. Thanks to the educational institutions that provide both education and motivation. However, there are also many students worldwide who do not have access to facilities in their hometown or schools, or even if they do, their schools don't encourage them enough.
It is thus important to choose the right school and curriculum which help in the holistic development of students. A right school encourages its students to not only score well in exams but also perform well in extra-curricular activities. It must be able to give the students some basic ethics and individuality that they can adapt to and be the best version of themselves. We provide you with a list of the best CBSE schools in India with their complete fee structure and specialities so that you can choose the best one for your child.
Academic curriculums are the next important thing that needs to be considered while looking for a suitable school. Out of the many academic curriculums in India, the Central Board of Secondary Education (CBSE) is ranked at the top, considering its insightful and liberal syllabus, and its affiliation across 21 countries.
The board is controlled and managed by the Union Government of India, and is recognised among 19,316 schools in India. CBSE aims to provide stress-free education, by adapting to innovative methods of teaching. Let's look at the best schools for 11th and 12th in India.
Looking for a PG/Hostel near these schools?
TOP CBSE SCHOOLS IN DELHI
1. DELHI PUBLIC SCHOOL
Popularly known as DPS, this is the most famous private, affiliated CBSE institution, with over 200 schools in cities across India, including Ahmedabad, Chandigarh, Delhi, Gurgaon, Pune, Bangalore, and Indore. The DPS family is considered to be not just a group of institutions, but a network of values, systems and relationships. It is one of the top 10 CBSE schools in India. 
From scholarly education to extracurricular activities like music and dance, sports, club activities, and art and craft, it gives everything to its students. With a great number of scholastic accomplishments since 2008, these schools have also achieved many medals and trophies in sports and cultural activities. It welcomes students from nursery to class 12, with residential facilities. The chairperson of DPS has also been honoured with the prestigious Padma Bhushan award this year.
Average fee structure – 80,000 /- per annum
Website –http://www.dpsfamily.org/
Address – DPS Delhi – Address: Kaifi Azmi Marg, KD Colony, Sector 12, Rama Krishna Puram, New Delhi, Delhi 110022
2. SARDAR PATEL VIDYALAYA LODHI ESTATE- NEW DELHI
Residing in West Delhi, this co-ed school is in the list of top 10 CBSE schools in India. Popularly known as SPV Lodhi Estate, it has been catering to parents' educational desires and students since its existence, 1958. Named after a leader of the Indian Independence movement, India's first Home Minister, and Deputy Prime Minister, Sardar Vallabhbhai Patel, the school is now managed by a governing body comprising the president and the secretary of the Gujarat Education Society.
Having the affiliation with CBSE Board, this school is the only private school in India that appoints very unique and innovative ways of training, where students at the primary level are instructed in the national language i.e. Hindi. Those from class 6 onwards are instructed in English, and Sanskrit is a mandatory language to learn till class 8. Tamil, Gujarati, Urdu and Bengali are optional for those who wish to study the third language. With such great linguistic opportunities, Sardar Patel Vidyalaya has moved its way forward to many scholastic and cultural accomplishments.
Its campus offers a comfortable, learning environment with almost all the modern facilities required for the students, including ventilated classrooms, laboratories for science and computers, a library with over 20,000 books, a medical centre in case of any emergency, a canteen, an auditorium for indoor games, and a ground for outdoor activities.
Image credits – Spvdelhi
Average fee structure – 40,000/- per annum
Website –https://spvdelhi.org
Address – Lodi Estate, New Delhi 1100 03
3. BLUEBELLS SCHOOL INTERNATIONAL – NEW DELHI
According to the CBSE school ranking in India, Bluebells International School New Delhi is definitely amongst the best CBSE schools in India. The school appeared in 1957 with a vision to open the door to the future of children through quality instruction and education. The co-ed school takes into account the educational aspirations of the students and parents residing in south Delhi and makes sure to serve their best to them. No discrimination is made in the name of caste, creed, race, status or gender.
3 students from Blueberry International have topped the class 12 rank list with 96+ percentages in the year 2019-20. The school has been honoured with the Award of Excellence in Education, by the Directorate of Education, Government of NCT of Delhi, and Government of India for the CBSE grade XII results from 2014-15 and has ranked amongst the top 5 schools in Delhi.
However, apart from the academic side of the school, it is very particular about cleanliness and teaches the same to its children. For the same reason, the school has also been honoured with Green School Award – Gold Category by Climate Reality Project India. It appreciates and thanks its students and the whole Blueberry family for the award, and encourages them to keep saving the planet.
Students are taken to many tours where they are made to socially interact and explore, and practically gain knowledge.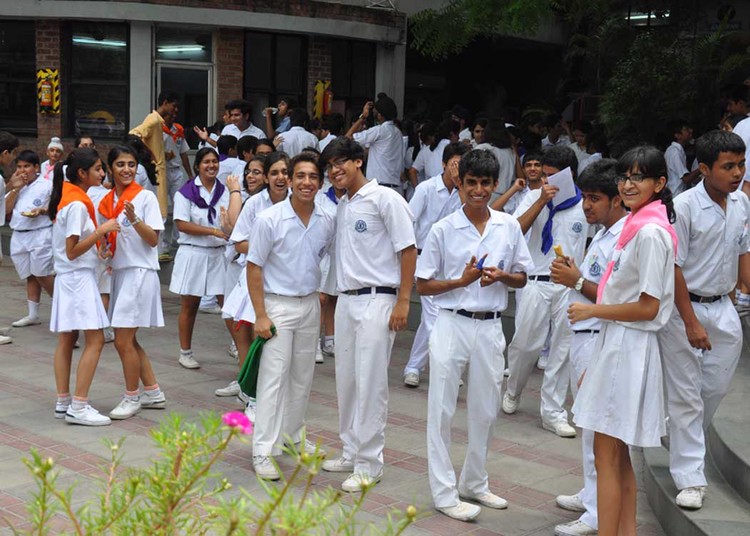 Image credits- Bluebells School
Avg Fee structure – Rs. 80,000
Website –http://www.bluebellsinternational.com
Address – Kailash – Opposite Lady Shri Ram College, New Delhi – 110048
These were the top CBSE schools in Delhi where you can study if you wish to excel in life.
TOP CBSE SCHOOLS IN BANGALORE
4. NATIONAL PUBLIC SCHOOL – BANGALORE
National Public School is run by the National Education Trust and is a linguistic, regional, minority institution inculcating in student aspirants, a high-quality education, across 4 cities – Bangalore, Rajajinagar, Chennai, and Indiranagar, the one in Bangalore being most famous. The NPS family thrives to provide a secure future to its students, and a promise to their parents to be consistent for their children's safety. It encourages its students to share and participate as much as they can, boost their confidence, and adapt themselves to varied backgrounds when required.
Over 47 of its students have topped the board results in the year 2020 with 95+ percentages, and the institution continues to count on more of them. now, it is counted among CBSE top schools in India. 
Apart from its academic scholarship, National Public School also encourages participation in sports and leisure. The campus provides its students with comfort through well-ventilated classrooms, cyber lab, science lab, math lab, library, health-care centre, art room, music centre, dance centre, audio-visual room, resource centre, and an auditorium and this is why it is also counted among the top ten CBSE school in India.
Avg Fee structure – Rs 1,00,000-1,50,000
Website –https://www.npskrm.com
Address – National Games Village Complex, 80 Ft. Road, Koramangala, Bangalore, Karnataka -560047
5. SRI KUMARAN CHILDREN'S HOME – BANGALORE
Sri Kumaran Children's home is another group of institutions based in Bangalore, with a vision to be a global choice, and emphasise Indian values while teaching, so that the children stick to the cultural ethics of India. It sets the children to be able to adapt to and face any challenge in future, be it professional or personal.
It aims to develop young children into responsible citizens. This is well reflected in the success and achievements of the institutions. The school prioritises all-around development, discipline and leadership since the 55 years of its existence. This is now the part of best schools in India.
Average fee structure – Rs. 1,52,000/- per annum
Website –http://kumarans.org
Address 1 – 6th Main road, Tata Silk Farm, Basavanagudi Bangalore – 560004. Tel No: 080-26760478.
Phone: 080-26760478.
Address 2 – No 28/4, House List No 140, Doddakalasandra Uttarahalli Hobli, Kanakapura Road
Bangalore 560 062.
6. HAL PUBLIC SCHOOL – BANGALORE
HAL Public School is a co-educational institution, affiliated with CBSE, Delhi. The school functions under the aegis of the School Managing Committee registered as a society under Karnataka Societies Act, 1960 and has classes from LKG to Std. XII. The school was established in 1999.
The serene atmosphere and the state-of-the-art infrastructure provides the right environment for the students to excel in academics, sports and aligned activities. It is one of the best CBSE schools in Bangalore.
Their mission is to inculcate self-discipline in students, make them empathetic towards their fellow-mates and surroundings; improve academic performance through peer-teaching; make optimal use of audio-visual resources to make learning an interesting and everlasting experience.
Avg Fee Structure – Rs. 32,118
Website –http://halpublicschool.com
Address – Suranjan Das Rd, PO, Vimanapura, Bengaluru, Karnataka 560017
TOP CBSE SCHOOLS IN MUMBAI
7. PODAR INTERNATIONAL SCHOOL – MUMBAI
Podar International School, established in 2004, has proved its broad vision of education and aims to create an environment where the students acquire not only knowledge, understanding and skills necessary for success but also develop strong moral values, especially appreciation and respect for different cultures and religions, and become proactive and responsible world citizens. The institution has 92+ branches in Mumbai. The school has been awarded for eINDIA 2011 for the "Best Use of Technology for Teaching/Learning Practice in Schools".
The school mainly focuses on improving students' cognitive and motor skills. Students from classes 1 to 5 are taught to think independently through a series of challenging projects where they get to explore new concepts on their own. Middle school students are provided with comprehensive, value-added education, to enable them to improve their linguistic and communication skills, and put together all the knowledge they have gained so far. High school students are made to explore and focus on their career choices. They are also encouraged to enhance their leadership qualities so that students are confident enough while they move forward to their higher education.
The school also has well-experienced faculty outside the classroom who teach students sporting and physical activities to keep them fit and fine. An inter Podar sports tournament is also organized in which students from the different Podar schools compete against each other in sports such as basketball, football, cricket, etc.
The campus provides well-furnished classrooms with a projector, computer lab, sports ground, auditorium, a well-stocked library, and science labs.
Average Fee Structure – 4, 51,350/- per annum
Website –https://podarinternationalschool.com
Address – Powai International Road, Opp. Dr L & H, Hiranandani Hospital, Powai
8. DON BOSCO INTERNATIONAL SCHOOL – MUMBAI
The Don Bosco Society is an international organization serving the service of children and youth, especially through the field of education. Founded in 1859 by Don Bosco, the Don Bosco Society is now present in 132 countries across the world. The first Don Bosco School in India was set up in Mumbai in 1928.
Don Bosco's philosophy and education method are considered one of the most brilliant systems of education worldwide. This system emphasizes that educators should accompany their students as a friend and guide. It is a student-centred, friendly and holistic approach to education. It creates a climate that draws forth the best in the student, encourages the student's complete and fullest self-expression, that assists children in acquiring convictions and attitudes that will lead them to opt-in favour of what is good, right, joyful and life-enhancing.
Don Bosco International Schools in Mumbai provides a unique learning experience by bringing together the very best in the Don Bosco and International Systems of Education, that helps children grow into outstanding global citizens.
Avg Fee structure – Rs. 2,80,000
Website –https://dbis.in
Address – Don Bosco International School, Nathalal Parekh Marg, Matunga (E), Mumbai 400 019
TOP CBSE SCHOOLS IN GURGAON
9. LOTUS VALLEY INTERNATIONAL SCHOOL – GURGAON
This institution comes under India's top CBSE schools list and strives to empower its students with knowledge and experience of life skills. Not just the cognitive, but it also aims for the moral, ethical and spiritual development of children. This top CBSE school in Gurgaon believes that this is only possible through participation and social interaction, and hence, leaves no chance to encourage its student family to be confident and move forward with whatever they have. It teaches the students about how values are considered a greater achievement than academics. You can count this school in India top 10 CBSE school.
It also has very unique ways of giving the textbook knowledge, and this has made a successful path for all those studying here. The well-experienced faculty lets the students imagine so that they can grasp the concepts faster. They encourage them to explore, experience, experiment and find their own path of discovery. They also provide them with a stimulating environment where love, affection and joy bring out the best in them, physically, mentally, socially, and emotionally.
Average fee structure – Rs. 2,51,740 /- per annum
Website –https://www.lotusvalleygurgaon.com
Address – Nirvana Rd, Behind North Close, Block M, South City II, Sector 50, Gurugram, Haryana 122018
10. THE HERITAGE SCHOOL – GURGAON
The Heritage School is affiliated with the Central Board for Secondary Education (CBSE) up to the Senior Secondary level and is a leading group of progressive schools that offers child-centric education based on experiential learning.
Freedom, empowerment and continuous learning are the ethos of the Heritage work culture.
The experiential curriculum draws from best practices across the globe including Integral Education, Expeditionary Learning, USA; Reggio Emilia, Italy; Waldorf Education, Germany; and Realistic Mathematics Education (RME) through a partnership with Jodo Gyan, India's leading experts in mathematics education.
Across its three campuses located in Gurgaon, Rohini and Vasant Kunj, it has one of the best infrastructures for academics, sports and technology. Holistic development is also addressed to students through a physical education curriculum based on the National Association of Sport and Physical Education (NASPE), along with a music curriculum incorporating Kodaly methodology.
Avg Fee Structure – Rs. 57,000 – 65,000
Website –
https://ths.ac.in
Address – The Heritage School, D-2, Pocket 2, South West Delhi, Vasant Kunj, New Delhi, Delhi 110070
TOP CBSE SCHOOLS IN CHANDIGARH
11. BHARATIYA VIDYA BHAVAN – CHANDIGARH
Bharatiya Vidya Bhavan Chandigarh Kendra was founded on 17 July 1983 and currently runs over 373 schools spread over 123 Kendras in the country. Bhavan attempts to shape youngsters into worldwide residents and advocate for them as proud Indians everywhere throughout the world.
Bhavan Chandigarh has consistently stood at its goal of being the centre of excellence in the domain of scholastics and, as is obvious from the Class XII board results for a seemingly endless amount of time.
Education World review 2017 pronounced Bhavan Chandigarh No. 1 for its scholastic reputation in its yearly overview, Education World India School Rankings 2017. This school has likewise earned the differentiation of being positioned Second in Chandigarh in the rundown of best Co-Ed Day Schools. The school was proclaimed the Second Best in the Country in the CBSE Class-XII Board Results countrywide by The Learning Point. This is definitely one of the best schools in India for 11th and 12th science.
Along with academic excellence, the school lays equal significance on the co-curricular and extra-curricular activities at all levels and for all age groups fulfilling its objectives of holistic development of each child. Finding the best PG in Chandigarh is a dream for many students who are looking forward to taking admissions in this prestigious school.
Experiential learning through projects, after-school programmes like Clubs and sports coaching, social empowerment programmes like Special Wing for differently-abled children and literacy programmes for the underprivileged children, International immersion programmes through foreign exchange of students and teachers, and trips abroad, extensive value education programmes through School Cinema and Interact Club-all this and much more stand testimony to Bhavan's broad-based and holistic vision.
Average Fee Structure – Rs. 43,620
Website –https://www.bhavanchd.com
Address – 5, Madhya Marg, Sector 15-A, Sector 26, Chandigarh, 160019
TOP CBSE SCHOOL IN AHMEDABAD
12. ARMY SCHOOL – AHMEDABAD
Army Public School Ahmedabad, an English medium co-educational school was established in July 1992 and is affiliated with the Central Board of Secondary Education (CBSE), New Delhi. It aims to be an institution to prepare yearning minds and make them learn what the duties of a responsible leader are, with a sense of integrity and honesty providing opportunities for successful learning and growth. You can consider this as the best school in India CBSE.
They tend to provide opportunities to students to foster integrated, innovative and critical thinking in them and to make them wise learners who can attain their maximum potential through an enjoyable learning process. Therefore, finding the best hostel in Ahmedabad near this school is dream of many.
The school campus is housed on open green areas and walkways with tree covers as well as ample space for students to relax, play and study. Normally students spend the formal teaching day working on a timetable structured around the main disciplines. These lessons take place in the classroom with an audio-video facility, the laboratories or in a specialized space for music, dance and yoga. Additionally, students undertake fieldwork from time to time in the school herbal garden.
Students can also enjoy all modern facilities like well-equipped computer labs, science and math laboratories, libraries with a wide range of books and transportation facilities. The school also provides facilities to the students for the all-around development of their personality, including sports, exhibitions, workshops, etc.
Avg Fees Structure – 14,350
Website –http://apsahmedabad.in/index.php
Address – Shahibaug Road, Cantonment Shahibaug, near Shree Camp Hanumanji Mandir, Ahmedabad, Gujarat 380004
Read More Related:-