7 Best Night Clubs in Delhi
April 18, 2023 | 10:44 AM
By your-space
People from all over the country come to Delhi to chase dreams and make a living. Whether it's a student looking for a good college or a professional aspiring to have a great job, Delhi homes the dreams of countless people. While working hard has to be your way of life in this fast-paced city, everyone needs a break sometimes. At your space, we believe in a balance of all things that help you make your living comfortable. So, as we strive to give you a home away from home where you can work hard on your dreams, here is also a list of the best night clubs in Delhi where you can party harder and blow off some steam!
Time flies by quickly in this city, which is why the city is always awake to make the most of it! Nightlife in Delhi is exciting and adventurous, you can find interesting places to hang out, eat, dance, and have fun in almost all parts of the city, but we have curated a list of some of the Top Clubs in Delhi for you! Check this out:
1)Junkyard Cafe Connaught Place
2)Kitty Su Connaught Place
3)SOHO Delhi – The Ashok, Chanakyapuri
4)Summer House Cafe, Hauz Khas
5)RSVP, Connaught Place
6)Bohca – Qutub Residency Hotel, Adchini, New Delhi
7)Diablo, Mehrauli, New Delhi
Junkyard Cafe Connaught Place:
Junkyard Cafe is a popular nightlife destination located in the heart of Connaught Place, New Delhi. This cool party hub offers a unique ambience with a theme of recycled and rustic interiors, making it an ideal spot for party enthusiasts who love a quirky atmosphere. The cafe offers a range of cuisines, including North Indian, Italian, and Continental dishes with a variety of vegetarian and non-vegetarian options, along with an extensive bar menu that includes both alcoholic and non-alcoholic drinks.
The music at Junkyard Cafe is a mix of Bollywood, commercial, and house music, which creates a lively atmosphere that is perfect for dancing and enjoying the night. The venue also features a spacious dance floor, a DJ console, and a VIP area, making it an ideal location for hosting private parties and events. So, if you have got your eye out to visit one of the best clubs in Delhi, this is it! Call all your friends to this happening place and dance it all out!
Kitty Su Connaught Place: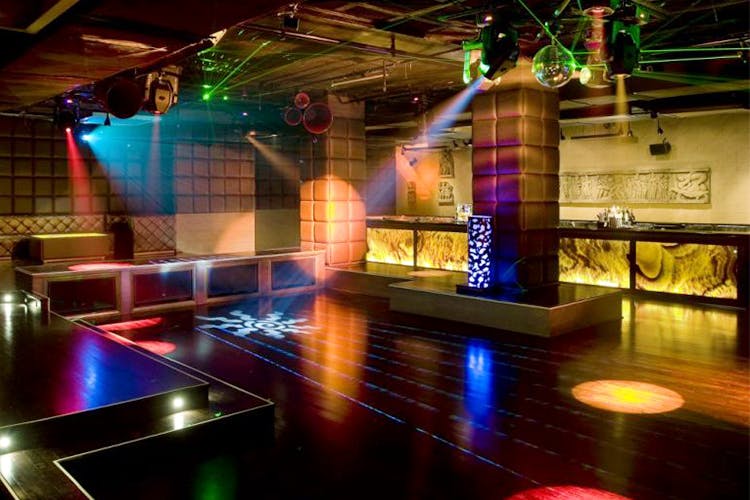 Kitty Su is a popular name that one can't miss when searching for the Best Delhi Night Club. Beyond some of the most happening crowds, this club is known for its lively atmosphere and top-notch music events featuring international and local DJs. Kitty Su is the place to be when you're looking to experience the best music, the vibe here offers a variety of music genres, including house, techno, hip hop, and commercial pop. Additionally, the whole look and feel of this club are chic and contemporary, with state-of-the-art lighting and sound systems – adding to the perfect atmosphere for party people. It is one of the biggest clubs in Delhi.
SOHO Delhi – The Ashok, Chanakyapuri, New Delhi:
Exploring this list of Best party clubs in Delhi, let's move down south to SOHO Delhi! SOHO Delhi is a popular lounge and bar located in The Ashok Hotel in Chanakyapuri, known for its lively atmosphere, chic decor, and excellent food and drink offerings. This is a place for both drinkers and eaters! Open from late afternoon until late at night, the menu at SOHO Delhi features a range of global cuisine options, including Indian, Italian, and Asian-inspired dishes – making it a popular spot for both early-evening drinks and late-night partying. The bar offers a wide variety of cocktails, beers, wines, and spirits, making it a great spot for an evening out with friends or colleagues. To add to the overall vibe, SOHO has a state-of-the-art sound system, making it a popular spot for DJs and live music performances. So don't wait anymore, gather all your friends and live the dream of your delhi nightlife at SOHO!
Summer House Cafe Hauz Khas:
You haven't partied in Delhi unless you've partied in Hauz Khas! This place has to be the center of all things party for all types of party people! Dominating the list of Best Night Clubs in Delhi, Summer House Cafe is a popular restaurant and bar located in the Hauz Khas Village, widely known for its lively atmosphere, extensive menu, and variety of events.
With both indoor and outdoor seating options, you get to choose your vibe as per your mood. The quirky look and feel, with exposed brick walls, colourful murals, and vintage decor elements make this not only the perfect backdrop for your insta party clicks, but also add to the buzz of the party! Apart from its killer drinks, Summer House Cafe's menu also features a variety of popular dishes including pizzas, burgers, pasta, and sushi. They also have a variety of vegetarian and vegan options. Cool, eh?
So, come out with your gang, and enjoy the vibe, the food, the drinks, and the amazing live music! Every time you visit, this place is always hosting mind-blowing live music performances and DJ nights. If you'd like to take charge of the music, you can also enjoy yourselves on their karaoke nights! Is this one of the Best place for clubbing in Delhi, or what?
RSVP, Connaught Place:
Another on the list of Best Night Clubs in Delhi has to be this unique party spot called RSVP – located in the heart of the city! RSVP, known for its sophisticated atmosphere, extensive menu, and impressive drink selection is a popular choice among students, youngsters, and the more mature audiences! In addition to its scrumptious food, RSVP offers an extensive drink selection. The bar features an impressive array of cocktails, spirits, wines, and beers, making it a popular spot for after-work drinks or a night out with friends. The overall vibe is upscale and sophisticated, making it a popular destination for special occasions and events. Can't wait right? Neither can we! Hop onto the party train of delhi nightlife and have a blast at RSVP!
Bohca – Qutub Residency Hotel, Adchini, New Delhi:
Bohca is a restaurant located in the Qutub Residency Hotel in Adchini, New Delhi. It is a popular dining destination in the area, known for its Mediterranean and Turkish cuisine, with a menu that features a range of dishes from the Mediterranean and Turkish cuisines, including meze, kebabs, and seafood. The restaurant is also known for its vegetarian and vegan options.
The highlight of this posh party spot is that it offers a lively party scene, especially on its rooftop terrace. The terrace has a stylish and upbeat ambience and is a popular spot for evening gatherings and events.
Bohca hosts regular live music performances and DJ nights, which add to the party atmosphere. The terrace also has a fully stocked bar that serves a variety of cocktails, mocktails, and other beverages. Overall, it is one of the Best Night Clubs in Delhi and a great spot for those looking to enjoy good food, drinks, and music in a stylish and upscale setting.
Diablo, Mehrauli, New Delhi: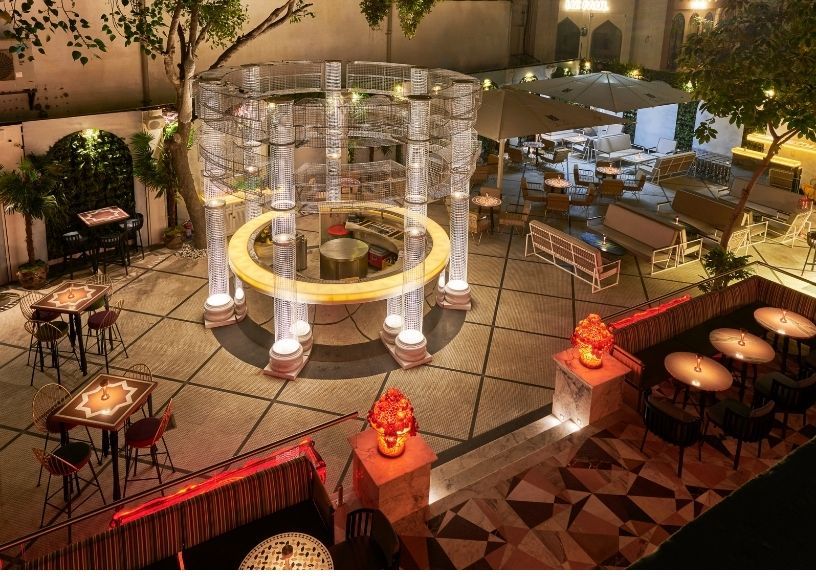 Another one on the list of Best Night Clubs in Delhi is this gem from Mehrauli! Diablo is a popular party spot and restaurant located in Mehrauli, a historic neighborhood in South Delhi, India. Unlike some of the other Best Night Clubs in Delhi, Diablo is also an exemplary multi-cuisine restaurant that offers a wide variety of dishes from around the world, including Italian, Continental, Mediterranean, and Indian cuisine – inviting party animals from both food and drink worlds! The club is particularly known for its beautiful outdoor seating area that offers a spectacular view of the Qutub Minar, a UNESCO World Heritage Site and one of the most iconic landmarks of Delhi. Diablo often hosts live music performances and events that cater to a diverse crowd, including locals and tourists alike – bringing in energy and a young spirit. On weekends, Diablo can get quite crowded with people who come to enjoy the food, drinks, and the energetic atmosphere. For once, follow the crowd and drop at Diablo to experience one of the Best Night Clubs in Delhi!
Along with enjoying the nightlife of Delhi, make sure you find the perfect stay which will keep you relaxed and can help you make the most of your time in Delhi. A good PG/Hostel can do wonders to your social life. Are you a fresher looking for a cool place to live? Look no more! Check out these top PGs in Delhi
Read more related:-
10 Best Night Clubs To Explore In Mumbai