Delhi Areas That Take Party Scene to Next Level
May 24, 2022 | 7:29 PM
By Your-Space
Delhi is famous for many things, and partying the night away is one of the things the city excels at. The capital of India has a vast party scene encompassing international club chains, rooftop bars, elegant restaurants, luxurious lounges, and fun patios. You blink an eye, and even the classiest dining restaurants turn into big parties after the clock strikes 11. 
There is a place for every budget and happy hours for the students in many areas. You will often young professionals step out of their PGs in Delhi to enjoy a drink or two after work and let their hair down. 
Greater Kailash 
This Delhi area has numerous party places that are open all day long. If you want to grab a beer after work, decide to bunk the day and day drink and chill, or enjoy a simple night out with cocktails and conversations, Greater Kailash is the place to be. This is the place to hit up for those of you who live nearby in PGs in Kailash Colony or around. From quaint spots to gorgeous rooftops and just some me-time, Greater Kailash is a great place. With places like Londoners, Gastronomica, My Bar, LIT bar and Ristorante, Amalfi, Fig and Maple, Molecule Air Bar, Shibuya Food & Bar, Greater Kailash part 1 and part 2 have so much to offer. Besides some unique places to party, they also have great places to grab dinner and drinks with family or friends. 
Vasant Kunj 
Vasant Kunj is the OG party hub of Delhi. For decades, this place has been famous for its strip of bars in the Basant Lok market, popularly known as Priya market. It has a range of options that are perfect for partying the night away in the company of friends or relaxing and chilling out. From sports bars like Underdogs and speakeasies like PCO to clubs like Keya and bars like Monkey Bar and Social, this place has it all. 
We recommend going to PCO (PassCode Only) for its unique underground party scene. This speakeasy is a hidden gem in a quiet market that serves impressive signature cocktails and has a hidden cigar lounge. Their basement touts wooden flooring and seating and plays the best top 40 and old school tracks from a laptop balanced on overturned wine barrels. This place needs a passcode to enter, so make sure you have it before visiting. 
Keya epitomizes a party scene in Delhi; been around for over ten years; this place refuses to get old. It starts as a restaurant lounge, but you won't find a place to move around when the clock strikes 11. They are always at 100% capacity, so we suggest getting here on time (a concept Delhi people aren't used to) 
Hauz Khas Village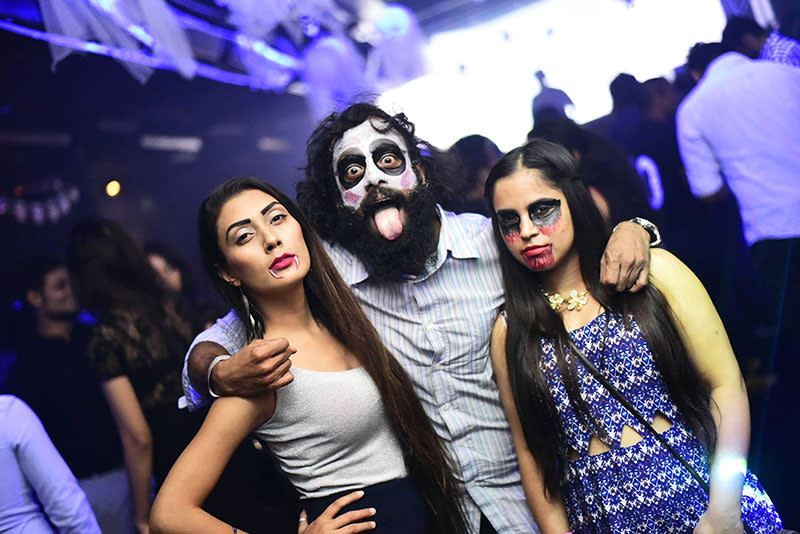 Credit:- So City
Hauz Khas Village or HKV is also called 'The National Capital of Ethnic Chic' because of its hip and trendy vibe. This gorgeous urban village is snuggled in a corner among the ruins of domed tombs and overlooks a lake. At one point, HKV was all the rage and continues to carry on its legacy among the youngsters in Delhi. Old homes in this area have been refurbished into quaint bars, multi-cuisine restaurants, fashion boutiques, art galleries, chic homestays, antique stores, quaint bars, and vibrant nightclubs. Full of narrow lanes, HKV is fundamental to Delhi's lively party scene. You can start your night here by sipping on some wonderful cocktails at one of the many rooftop bars overlooking the sunset, and then party hop the night away. The options here are endless – Social Offline, Matchbox Pub and Grub, Imperfecto, Vapour Bar, Moonshine Café and Bar, Levels, Garage Inc, Fork You, and other cool spaces that turn into massive parties and host underground bands' gigs and more. Nobody does hipster parties better than HKV does.
Aurobindo Market and SDA area 
These areas were not your typical party spots but have become recently popular in the past few years. With Piano Man Jazz Club in SDA, Saturday nights became very different – this wouldn't qualify as a typical party spot but is one of the best places for a weekend. There will be a live band playing, and they will have some fantastic cocktails. This place is always crowded, so it is advisable to go early and get a good spot. As the name suggests, Auro is bang in the middle of the Aurbindo market and boasts of a swanky bar and a massive terrace. Come October, and their terrace is the place to be sipping on some Pop Fashioned cocktails. Right by its side is the famous Summer House, where Coldplay performed a surprise impromptu gig. This area will never cease to surprise you. They have a laid-back, super chilled, "summer house" party vibe that offers a great dance floor to dance the night away or a spot on the terrace to admire the city views. 
Connaught Place and Janpath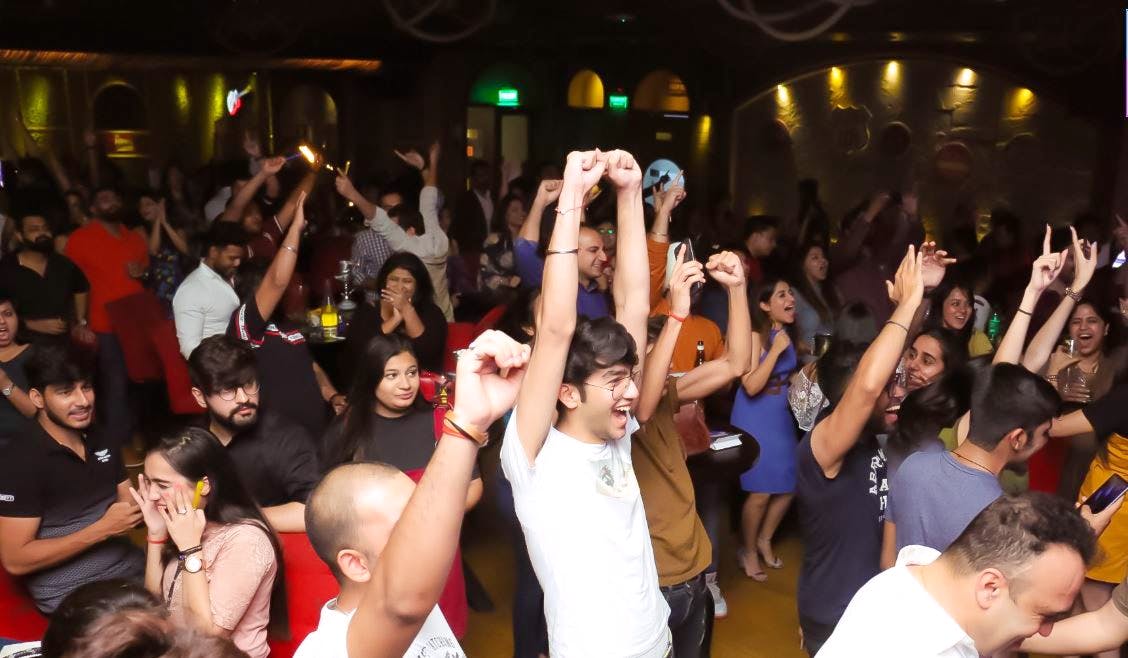 Image Credit:- LBB
This is the central area of Delhi, and you will see people from all over Delhi flocking over to Connaught place – inner or outer circle or entering one of the many popular hotel nightclubs in this area. If you are staying at a PG in Kailash Colony, PG in Roop Nagar, or any other PG in Delhi, CP is a party place that cannot be given a miss. From fantastic places like My Bar, Bunta Bar, Castle 9, and Excuse Me, boss, to swankier sites like Kitty Su, Privee, Grappa, and Plum by Bent Chair, CP will guarantee you the time of your life. 
Kitty Su is an after-party place because this is open till the wee hours of the morning, a wild spot. This place has a champagne lounge and some eccentric performances. My bar in the CP circle is always packed and hustling with youngsters, claiming to be one of the cheapest bar chains in the city. Priveé is known for its high-end events, state-of-the-art sound system, and massive dance floor. Head over before 11 to avoid cover charges. If you get to Grappa between 6.30 and 7.30 pm, you can treat yourself to bottomless sangria pitchers and unlimited beer. Perfect for weekdays and weekends. 
Nehru Place
Last but not least, Nehru place is another popular area in Delhi owing to the lively Epicuria mall and numerous hotels in the area. You can party the night away at Social, Fio Cookhouse & Bar, MNKY HOUZ, and Lord of the Drinks. Most of the bars and restaurants here transform into clubs post-dinner. The tables get cleared out to make room for a splendid dance area. You will find outdoor seating and patios as well and get to hear a range of music from EDM and progressive to commercial pop and hip-hop. Occasionally, these bars throw in Bollywood and invite global DJs to perform their sets. 
Apart from the hippest party areas, Delhi is home to some of the best colleges and workplaces for people to study and kick-start their professional life. This is why you will see a lot of young crowds flocking to these party places. While the city takes care of your partying needs, we at your-space take care of your accommodation needs in a town that is new to you. Our PGs in Delhi make a living away from home a stress-free, secure and affordable experience by providing great amenity-packed housing options. Check out our PGs in Kailash colony, PG in Roop Nagar, or any other strategic location in Delhi.