8 Things to Buy in Kamla Nagar Delhi
May 29, 2022 | 10:16 PM
By Your-Space
Kamla Nagar, Delhi is the undisputed universally accepted shopping area for all those who study at North Campus. Kamla market, Delhi takes care of all your needs – food, clothes, entertainment, leisure and they have budget-friendly options as well as upmarket brands deeming it the quintessential shopping place for all the students. If you are studying at North campus or live in a PG in Kamla Nagar or any PG near the north campus, Kamla Nagar is the place to shop and buy things from. The market tends to get super crowded on the weekends and is closed on Mondays so try and visit it on a weekday. This market is a treat for students and youngsters who stay at hostels and PGs in Delhi and are on a strict budget.
Here are some of the things you must buy at Kamla Nagar Market Delhi.
Ceramicware from Prakash
Prakash has been in the business for over two decades and sells some amazing and fine ceramic pieces. From napkin holders, rice pots, and mugs to teacup sets, handis and agarbatti stands, this store has a range of delicate fine pieces with gorgeous intricate designs, at super cheap rates. 
Ethnic wear from Ibadat and Tunica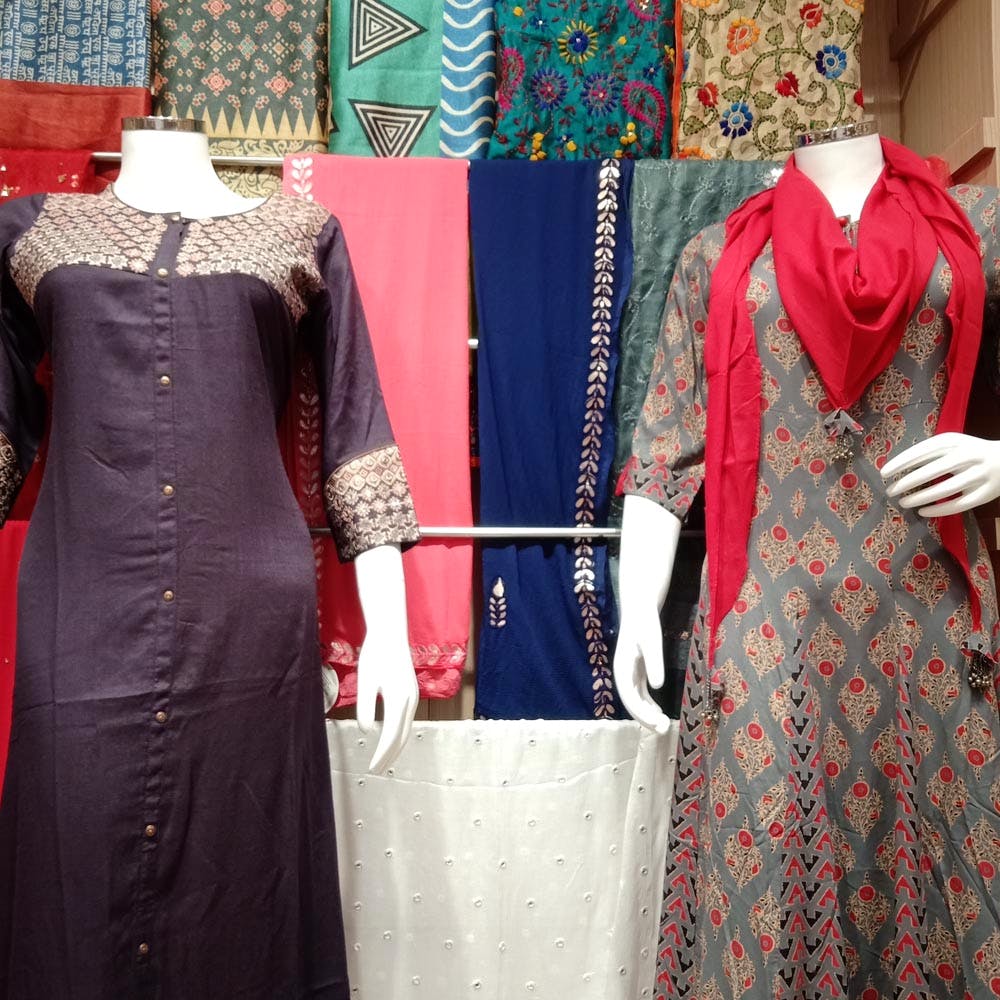 Credit:- LBB
For kurtas galore, head over to Ibadat for casual and semi-formal cotton kurtas, both floor-length and knee-length. They add at least ten new designs every week. Tunica can be your go-to store during summer. Flowy kurtas, comfortable palazzos, cotton suit sets, and pretty ethnic formal wear; everything at a flat rate of Rs. 1,199, which is amazing for that kind of quality. 
Fusion and fashion clothing from Misi and Fashion Garage
Misi is a hole-in-the-wall, fusion wear haven; please do not go by what their mannequins display. What you get on the racks is way better and more stylish. Another hip and cool store is Fashion Garage. From Star Wars t-shirts to Pink Floyd tour merchandise and some funky fridge magnets, this store is pop-culture heaven for men and women, alike. You can buy your denims from here at surprisingly affordable prices. If you are in a PG near the north campus, Kamla Nagar, or Bungalow Road, this can become your go-to place for all things 'cool'.
Bags from Bag Point
Credit:- DforDelhi
Bag Point is one of the oldest shops in Delhi, Kamla Nagar right across the ever famous Chacha ke Chhole Bhature (you need to eat here before or after). Their bag stock is always trendy and comprises some of the most fashionable and beautiful pieces; you can be sure of their amazing quality. Don't miss this store as it is located in a small lane. Their bags start at Rs. 500 and go up to Rs. 1500. You will find cross-body bags, backpacks, totes, clutches, purses and so much more in plain, pastel, and prints!
Ganjis or vests 
You will find a table outside Bercos stacked with lots of razorback vests, commonly known as ganjis, you get these in plain cotton or bright colours in cropped top style or extra-long ones – they have every permutation and combination of this summer clothing. You can step out of your PG in Kamla Nagar and pick some up for the summers. 
Tops 
Walk a few steps ahead of the Ganji table and you will see an open stall called Aakash. You can spot this by searching for a row of hangers showcasing a diverse range of tops. From plain cotton tops and shimmery sequin ones to the pastel summery shades and fancy frilly tops – these guys will spoil you for choice. 
Socks
A stall outside Pepe jeans will sell you any type of socks you ever dreamed of. Striped cotton anklets, goody cartoon prints, delicate floral prints, indoor socks, printed fishnet socks, basic workout socks – name it and you got it. 
Junk jewellery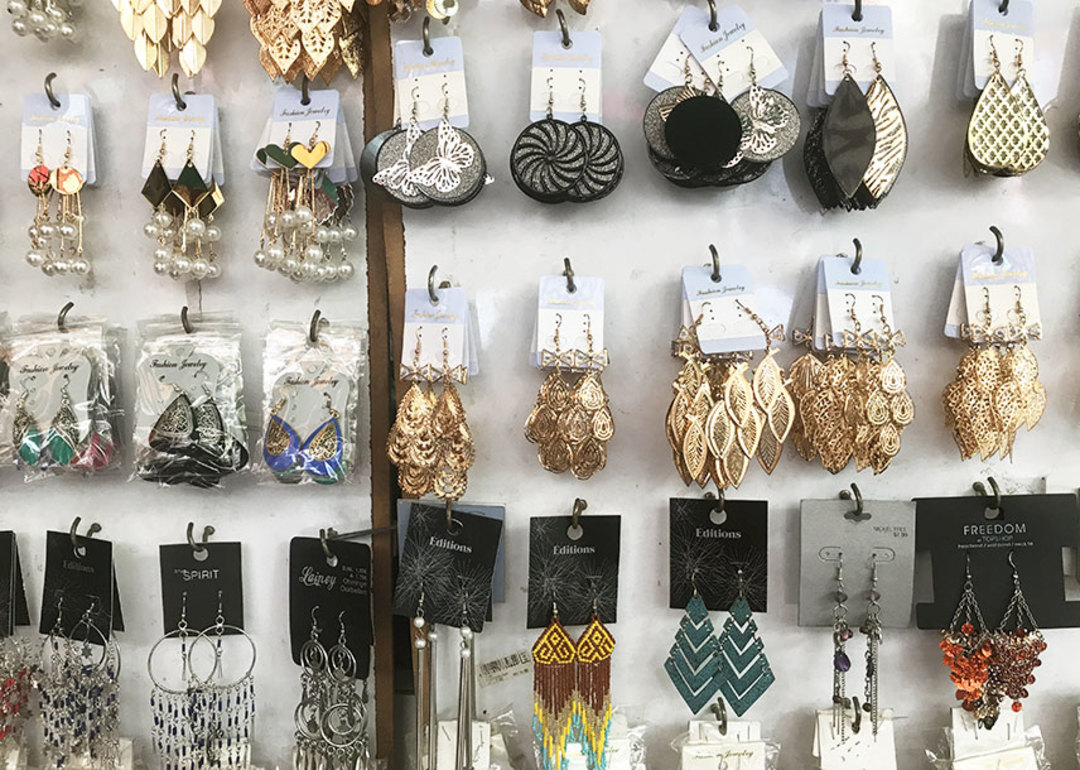 Credit:- So City
Whether your fashion style is gothic, hipster, delicate feminine, chic, ethnic, urban Indie, or rustic banjara, Deepak or Vikas & Rahul Jewellery Shop will have them all. From necklaces, jhumkis, and rings to hair accessories, studs, and long chains, you can buy one thing for each day of the week you attend college. It is one of the best shops in Kamla Nagar Market location for accessories. You can also check out a seller in front of Ed Hard that offers only chunky chains. You will spot many stalls and stores with junk jewellery, but this specific vendor is all about metal and stone neckpieces and definitely not one to believe in subtlety. Big, bold, and chunky is the style mantra of this store.
Shoes from Stelatoes 
We cannot deny that the pun in the name is quite bothersome but that should not deter you from checking their store out. From comfortable everyday wear shoes to fancy footwear for the weekends, the variety here is endless. And as the name tries to suggest, all this at a steal. You can get a good pair of flats from Rs. 650 to Rs. 800, and stilettoes at around Rs. 1000, which isn't a bad price for that fancy look you are going for. If you study at DU and live in a PG in Kamla Nagar, Delhi's student hub, chances are you have already been here.
Books 
Sanjeev at Kamla Nagar sells an extensive range of books spanning numerous genres. This little kiosk has everything you want and if not, they will arrange it for you. From used books in mint condition to brand new books, Sanjeev is up to date with all the latest editions.
Apart from the above things to do in Kamla Nagar, it is also flooded with numerous eateries, cutesy stationery items which are designed and made in China, breezy and comfortable shorts, hair accessories, colourful stoles, key chains, and other stuff at ultra-affordable rates.
While Kamla Nagar offers you good quality things at affordable rates, we at your-space follow a similar mantra. Through our numerous PGs in Delhi, we aim to provide the best comfort, security, and amenities to students and young professionals within their budgets. Our PGs in Delhi do not compromise on facilities and ensure a great experience for those living there – Check out our PG in Kamla Nagar, PG near north campus, Kamla Nagar PG, luxury PG in DTU, or any other PG in Delhi and you will understand how fundamental student comfort and security is to our accommodations.