The Best Places to Study in Pune: Libraries, Cafes, and Co-Working Spaces
April 20, 2023 | 6:46 PM
By your-space
Pune, the ever-bustling city in Maharashtra, is a favourite destination for students and working professionals alike. The city has earned its reputation as the 'Oxford Of The East' owing to the presence of prestigious educational institutions and several famous corporates. Pune also seamlessly blends rich cultural heritage with a contemporary vibe that is especially attractive to millennials and Gen-Z. Besides being home to several institutions which help people start their careers, Pune is also renowned for its delicious food, busy markets, recreational spots and historical landmarks.
If you are a student living in a hostel in Pune, you will have plenty to explore and do around the city. However, sometimes all you need is a relaxing and quiet place where you can catch up with your studies while blocking out all the distractions. Whether it is a pending assignment, a book you have been looking forward to reading for the longest time or a study session for a crucial topic, there are plenty of libraries, cafes and co-working spaces you can head to. A visit to these spots can also help you break the monotony you might feel while living and studying in the confines of the Pune hostels for students.
LIBRARIES
British Council Library
Located in the heart of Pune, the British Council Library is a popular destination for students looking for a quiet and comfortable place to study. The library boasts a vast collection of books, journals, and magazines, as well as free Wi-Fi and printing services. Plus, it has a serene atmosphere and attentive staff, making it an ideal spot for students who need a break from the hustle and bustle of the city.
Address:3rd Floor, Ramsukh House, Ganeshkhind Road, Near Sancheti Hospital, Shivaji Nagar, Pune
Symbiosis Central Library
The Symbiosis Central Library is one of the largest and most well-equipped libraries in Pune, with an extensive collection of academic and research materials. The library also offers state-of-the-art facilities, including group study rooms, multimedia equipment, and online resources. If you're a student at Symbiosis, this library should be at the top of your list.
Address: Symbiosis Knowledge Village, Lavale, Mulshi, Lavale, Maharashtra
CAFES AND CO-WORKING SPACES
Waari Book Cafe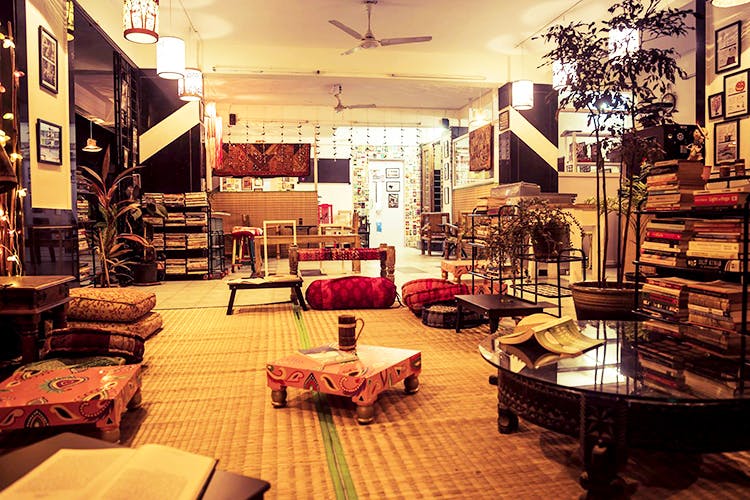 Not only is this cafe a great place to catch up on your studies and work, but it also has a great collection of books that you can explore while here. The Waari Book Cafe has several cosy corners as well as free WiFi that you can use to write up your assignments on the laptop. Besides a calming ambience, the cafe also has great food, including coffee, pasta and more which does not burn a hole in your pocket.
Address: Choice Institute, Ground Daulat Estate Off Karve Road, near Choice Health Club, Kothrud, Pune
Words and Sips Book Cafe
A favourite amongst Pune students, the Words and Sips Book Cafe has a cosy and comfy vibe. The place has bean bags, delicious food and numerous books that you can read up on once you are done studying. Not only does this cafe provide you with a serene place to work or read, but it is also pretty inexpensive and has an extensive menu that you can choose from.
Address: Rachana Tulips, Near Times Of India, FC Road, Pune
Viman Nagar Social
Social is renowned as a great co-working space besides being a cafe, bar and party place. The spot has several comfortable corners where you can work or study easily. Besides an excellent ambience to brainstorm, you can also enjoy the delicious Social signature dishes and drinks as you end your day.
Address: Phoenix Marketcity, 207 Viman Nagar Rd T-02 & 03, 3rd Floor, Viman Nagar, Pune
Cafe Kathaa
An aesthetic cafe based out of an old-school bangalow, Cafe Kathaa is perfect for some quiet time and indulging in good food. The cafe has numerous books that you can read up on, and they also have Kindles present at every table. A decent internet connection, an extensive menu, quirky decor and a pleasant ambience makes Cafe Kathaa an ideal place to study as well as unwind.
Address: F C Road, Ganeshwadi Lane, Opposite Hotel Vaishali, next to the Old building of British Library, Pune,
Leafy Trails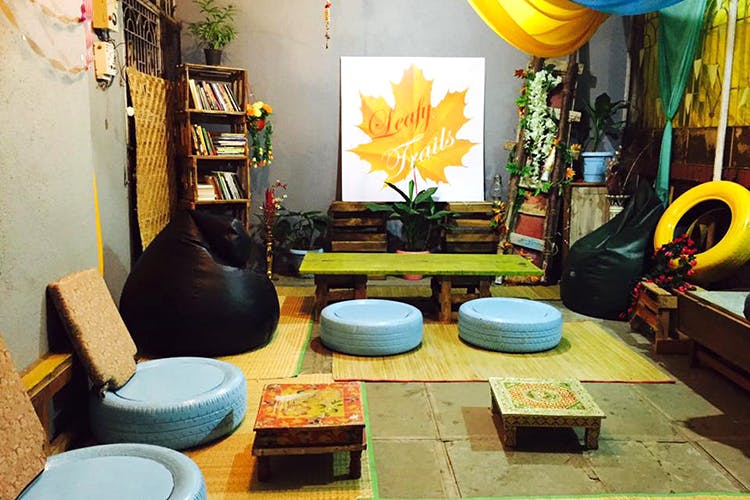 A rooftop cafe, Leafy Trails, is charming and peaceful, making it a perfect place to study. The cafe also has a nice collection of books that you can check out. Besides the ambience, Leafy Trails also offers quick bites and beverages which do not weigh down on your wallet. The cafe charges a fee of Rs 20/- per hour, so make sure to make the most of your time while here.
Address: Swapnamandir Society, Vakil Nagar, Erandwane, Pune
These are some of the amazing spots that you can explore if you wish to enjoy a peaceful and productive study session. If you are yet to find suitable accommodation in the city, then do check out the your-space PG hostel in Karve Nagar Pune and other locations. These spaces have all the amenities you might need as you get settled into the new city.