Seven Budget-Friendly Shopping Places for all the Shopaholics in Delhi
June 16, 2022 | 5:47 PM
By Your-Space
No matter the age, every shopper loves a good bargain. Lucky for those, Delhi has some really cool spots where one can find a bargain all year round. The national capital territory of India, Delhi, never fails to disappoint when it comes to two things – food and fashion. There are a plethora of avenues for both. From the swankiest malls and shopping arcades to trendy shopping streets and flea markets, Delhi has more than enough options to get your shopping game on. 
College students and youngsters often have budget constraints, but that is no reason to not look chic and buy the good stuff. Delhi has numerous flea markets and street-side shopping avenues that can put the Kardashian-Jenner clan to shame!! (ok that's pushing it, but definitely put you at par). If you haven't already explored the fashion streets, get out of your hostels and PGs in Delhi and go crazy at these places.
These spots are not only inexpensive but also offer some of the best quality and stylish clothing items. Be it accessories, footwear, or clothes, these options are perfect to bring out your swag without burning a hole in your pocket.
Sarojini Nagar Market
Image Source:- Business Standard
The first spot for any fashionista is, Delhi's famous Sarojini Nagar. This place is open on all days except Monday and from 8 a.m. to 10 p.m. From high-end brand rejects to unique fashion wear, this market has it all. Don't forget to enter the bi-lanes and small holes in the wall stores, because that is where you will find all your gems. While you are at it, bargain shamelessly. Sarojini Market is not limited to clothes, you can even get fashionable jewellery, accessories, footwear, and much more. For those who are residing in PGs near north campus, Kamla Nagar, or that side of Delhi, get onto the pink metro line and it will bring you straight to this market. Don't forget to have the nimbu soda and delicious pakoras once you are done shopping. 
Lajpat Nagar- Central Market
Image Source:- Mint
Lajpat Nagar or the central market is another shopping hub in Delhi that tends to attract the youngsters of the city because of its pocket-friendly collection and delicious street food. This market has everything – stationery, party props, home décor, traditional clothing, footwear, dry fruits, essentials and so much more. All this at rates better than you will find anywhere in the city.  When shopping at Lajpat Nagar, Dolma aunty's momos and ram laddoo chaat are a must. You can visit the market between 10 a.m. and 9 p.m. on all days except Monday. 
Paharganj Market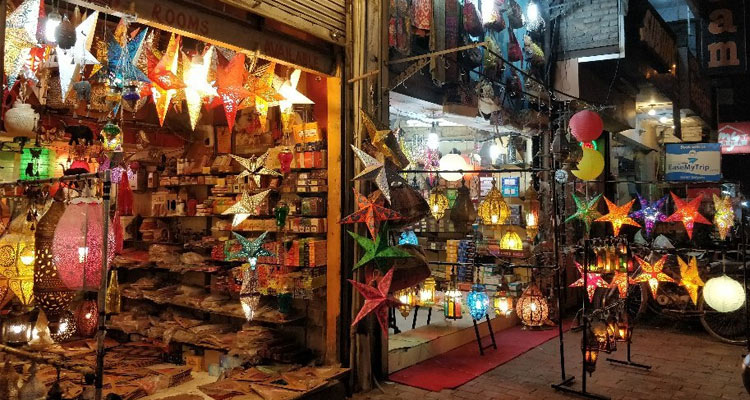 Image Credit:- Delhi Tourism
Paharganj market is a five-minute walk from Connaught Place and offers a wide variety of products to add to the backpackers' collection. This market has a wonderful assortment of leather products, bags, shoes, footwear, etc. You will find classic aesthetic items as well as quirky items like earrings, necklaces, and dreamcatchers at a very affordable price. One sees a lot of tourists here because of its pocket-friendly hotels and extensive variety of handicrafts and textiles. Tourists enjoy shopping here because of its authentic, hippie, and medieval vibes. It would be sinful to visit Paharganj and not eat chole bhature at Sitaram Diwanchand. This market is open every day of the week from 11 in the morning to 11 at night. 
Chandni Chowk
Image Source:- AFAR
Chandni Chowk is one of the most appealing shopping areas that has a charming old Delhi vibe to it, even in today's day and age. It preserves its old-world charm in the many kothis (bungalows) and narrow lanes that have a rich history embedded in them. This market has stood the test of time and conserved its 'bazaar' experience, giving stiff competition to some of the best malls. From books to wedding lehengas and some of the best food the city has to offer, Chandni Chowk is a shopaholic-wonder. Do eat at the Paranthe Wali Gali, Sharbat-e-Mohabbat, Qureshi Kebab Corner, Karim's and visit Jama Masjid when you go. Chandni Chowk offers a wide variety of sarees, jewellery, wedding lehengas, traditional décor items like lamps, and embroidered products. The market falls on the yellow line and is shut on Sundays. 
Janpath Market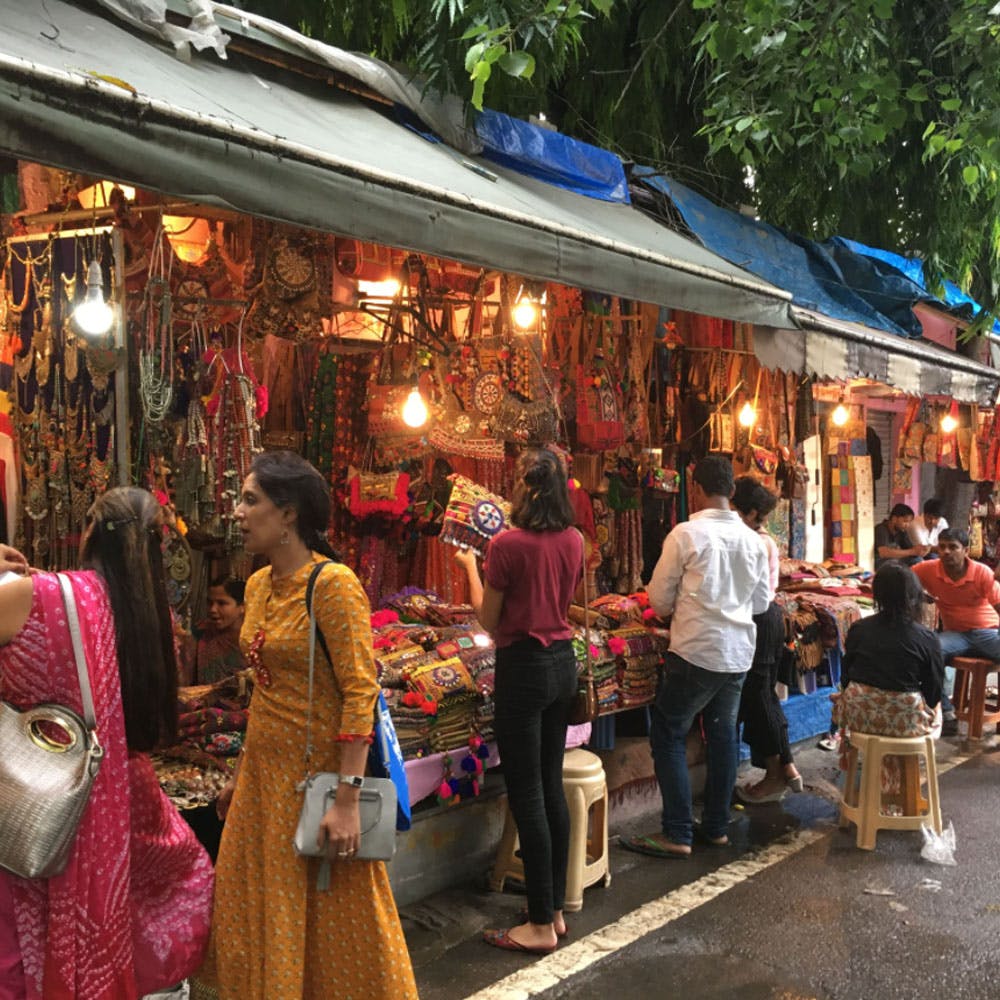 Image Credit:- LBB
Janpath is a market located in Connaught Place and has street shops lining up the roadside along with a few dedicated lanes for flea shopping. This is a really hip place where you can get some of the trendiest clothes and fashion jewellery at bargain prices. It attracts the locals and tourists alike. It is popular for artificial jewellery, a wide range of footwear and hand-made bags, western and ethnic wear, traditional handicrafts, stoles, embroidered fabric, antiques, and beautiful paintings. It is the best place to take back a souvenir when you visit your hometown. This market is open all days of the week and is easy to reach – just get on the yellow line and get off at Rajiv Chowk metro station. 
Karol Bagh and Gaffar Market
Image Credit:- Pinterest
Karol Bagh is yet another well-known market famous for low-priced and extremely affordable products. The market offers a large variety of ethnic and western attractive clothing options and an unmatched collection of books. A part of this market known as the Gaffar market is extremely popular and the place that every gadget freak must visit, for the expansive range of affordable gadgets. While you are at it, visit the original Roopak stores to get your stash of masalas and cool down with some kulfi at Roshan Di Kulfi. 
Dilli Haat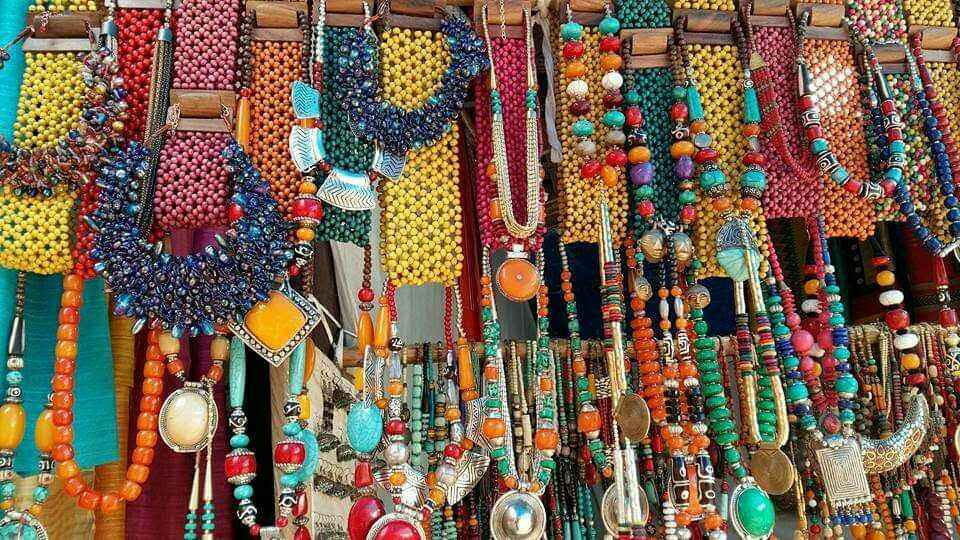 Image Credit:- Tripoto
If you are fond of handicrafts, artefacts, artisanal clothing, paintings, and lots of trinkets at affordable prices, Dilli Haat is the place to go. Its thatched roof décor lends a rural vibe to the place, setting the apt tone for the kind of stuff being sold. They normally have a state or cultural festival at all times, so one gets to experience everything about that state or culture. They have food stalls selling delicacies of different states and our favourite is the root beer, momos, and thukpa at the North Eastern food stalls. 
Kamla Nagar Market
Image Credit:- The Financial Express
Those who live in a PG in Kamla Nagar are probably all too familiar with this popular shopping destination for wonderful bags and footwear. Located next to the North Campus of Delhi University, the Kamla Nagar market is the ultimate shopping destination for students who want cool things at affordable prices. Trendy clothes, stylish bags, sturdy backpacks, branded stuff, quirky accessories, ethnic wear, everything, and more are available here. 
 Just like Delhi offers a host of shopping experiences at budget-friendly rates, we at your-space provide students and young professionals affordable accommodation in a new city. Be it a PG in Kamla Nagar, luxury PG in DTU, or for that matter any your-space PG in Delhi, we offer the same comfort, luxury, security, and amenities at student-friendly rates. We understand what it takes to adjust to a new city and thus, focus on making this process seamless.