Plan Your Valentine's Day At These 10 Spots In South Delhi
January 10, 2023 | 5:41 PM
By your-space
Now that we are done welcoming the New Year, February will soon come rolling in and your preparations for valentine's day will be underway. Love will soon be swirling in the air and the capital city of Delhi will join in the celebrations with grand fervour. Pretty-lit places, cosy coffee shops and amazing fine-dining spaces and more will be all set to ring the festival of love. Whether you and your significant other likes to party it up or love spending some quiet time alone, there are several options awaiting you in South Delhi. 
To make your task of finalising a spot to spend some quality time with your partner easier, we have created this ultimate list of amazing eateries that you can bookmark.
Music & Mountainside Hillside Cafe:
True to its name, this cafe transports you to the mountainside with its rustic wooden decor and quaint vibes. The cafe is perfect for couples looking forward to spending some quality time over a candlelit dinner. Not just cosy interiors, but this cafe also has some delectable winter dishes such as Mushroom Ravioli, Salami Pizza, Apple Crumble and Banana Toffee Crumble. 
Address: M-23, M Block Market, Greater Kailash 1 (GK 1), New Delhi
Cost For Two: INR 2500/- (Approx)
Rose Cafe:
Turquoise and pink walls, Mediterranean vibes and amazing outdoor seating make Rose Cafe one of the most romantic eateries to spend Valentine's Day in South Delhi. The cutesy cafe has a vast menu and some must-try dishes here include Skinny Pizza, Spaghetti Aglio Olio and Espresso Cake With Whipped Cream And Caramel Sauce.
Address: 264, Ground Floor, Westend Marg, Saidullajab, Lado Sarai, New Delhi
Cost For Two: INR 1700/- (Approx)
Smoke House Deli:
Exemplary food, stunning interiors and soft background music has made Smoke House Deli a favourite amongst Delhiites. The romantic atmosphere here is perfect for a brunch date with your partner and the food is exceptional too. Mainly serving European and Italian Cuisines, their must-have dishes include Ricotta Ravioli, Rocher Shake, Peri Chicken, Bagels and Steak. 
Address: Shop 252/253, DLF Avenue, Saket, New Delhi
Cost For Two: INR 1700/- (Approx)
Diggin:
If you are a student studying in the South Campus of South Delhi, then you undoubtedly would've heard of Diggin which is located just opposite Gargi College. Red brick walls, cosy seating, lots of plants, fairy light and aesthetically pleasing lamposts make up the decor of the place which also has alfresco seating, perfect for a date during the pleasant weather of February. Make sure to try their Chicken Bruschetta, Zucchini Fries and the Diggin Special Pizza.
Address: Shop 1 & 2, SRI Fort Road, Anand Lok, New Delhi
Cost For Two: INR 1400/- (Approx)
Perch Wine and Coffee Bar:
If you and your bae love coffee dates with amazing European fare by the side then Perch Wine and Coffee Bar should definitely be on your bucket list. This romantic restaurant has a cosy atmosphere and an expansive coffee and bar menu perfect for both lunch and dinner. Coffee, Potato Gnocchi, Mushroom Risotto, Bean Salad and Chocolate Parfait are just a few of the many great food options available here. 
Address: 71, 1st Floor, Khan Market, New Delhi
Cost For Two: INR 1600/- (Approx)
Dramz Whiskey Bar and Lounge:
Great food, exceptional drinks and a fantastic view of the Qutub Minar are just a few of the many features that make Dramz one of the best restaurants in Delhi. Some must-haves from its menu include Lamb Chicken Tikka, Spaghetti in Alfredo, Kadhai Paneer,, Paneer and Hummus and Gulkand Nitro Ice-cream.
Address: 1580/1, KD Marg, Near Qutub Minar, Mehrauli, New Delhi
Cost For Two: INR 3500/- (Approx)
The Sky High: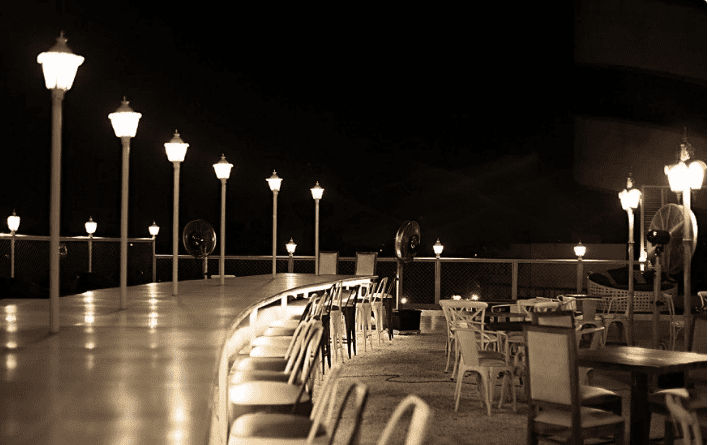 A rooftop restaurant offering spectacular views of the city, The Sky High is an amazing spot for a romantic Valentine's Day dinner. The restaurant is one of the most famous ones in Delhi and has an extensive menu consisting of North Indian, Continental and Italian cuisines. You can also sip on some delicious cocktails as you try out their famous dishes such as Stuffed Mushrooms, Mezze Platter, Peri Peri Pizza and Panneer Butter Masala. 
 Address: C-306, A-307, T-101 & 102, 3rd Floor, Ansal Plaza Mall, Khel Gaon Marg, New Delhi
 Cost For Two: INR 2700/- (Approx)
Olive Bar and Kitchen:
An alfresco Mediterranean-style restaurant complete with white walls, pebbled floors, aesthetic lighting and a canopy of a Banyan tree, Olive Bar and Kitchen is a dreamy place if you want to surprise your partner. Besides an amazing array of cocktails and delicious food, you can also enjoy live entertainment at this restaurant. Cheese Souffle, Gnocchi, Fettucine, Scallops and Lobster are some of the best dishes on the menu. 
 Address: 6-8, Kalka Das Marg, Mehrauli, New Delhi
 Cost For Two: INR 5000/- (Approx)
The Palette:
Art, music and good food come together at The Palette. It is not just a great place to eat but also spend time with your partner creating beautiful paintings. The cafe has both an alfresco and indoor seating along with an extensive menu of Lebanese, Mexican and Italian. Their fries, nachos and amazing coffees are just a few of the must-try items here. 
 Address: The Dhan Mill, 100 Feet Road, Chhatarpur, New Delhi
 Cost For Two: INR 1400/- (Approx)
Hauz Khas Social: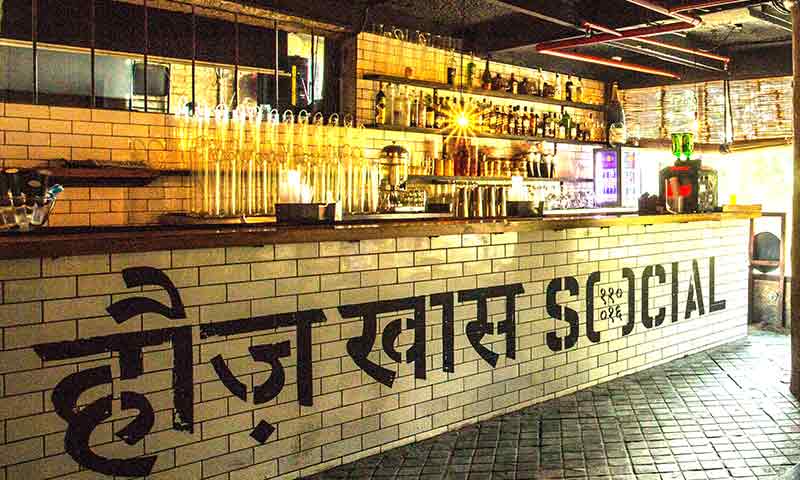 If you and your bae love the movie 'Tamasha', then you understand the undefeated charm of Hauz Khas Social. Cosy interiors, a splendid view of the lake and an unparalleled vibe make Social one of the favourite restaurants for couples. Besides the amazing ambience, the restaurant also has some unique cocktails and food items. If you and your partner would like to spend alone time together then do visit during the day but if you are looking for a party place then an evening brunch is recommended here. If you are residing in the your-space  PG in Hauz Khas, then Social is just a short 11-minute drive away. 
Address: 9A, T12A & 12, Fourth Floor, Hauz Khas Village, New Delhi
Cost For Two: INR 1900/- (Approx)
Now that you have a list of the most amazing restaurants, you can start planning your perfect date for Valentine's Day. However, before you start make sure you are well settled into the city by checking out our student hostels in Delhi. We at your-space also have North campus student accommodation and PGs in different areas of the capital city. Just give us a call to find your perfect accommodation today!