9 Mumbai Festivals to Witness the City in All its Grandeur
April 26, 2022 | 1:28 PM
By Your-Space
Mumbai is a melting pot of cultures with people from all over the country co-existing in this big and vibrant city. The heart of Bollywood, and a city where people flock to realise their dreams; can be nothing short of one big celebration after another. Apart from the multi-cultural and pan-religious festivals being celebrated here with a lot of gusto, Mumbai is also famous for national and international events.
Getting a chance to attend even a few of these festivals will give you a taste of Mumbai's irresistible exuberance. If you have recently moved to the city to study or kick-start your career, here are a few cool festivals that you should try and attend. 
1) Kala Ghoda Arts Festival
This cultural festival takes place in February each year and lasts for nine days. Kala Ghoda Arts Festival is one of the most imminent festivals in Mumbai. Various forms of art are rejoiced at this event, ranging from dance and music to theatre and fine art. People participate in this festival by visiting art galleries, shopping, taking part in music and dance performances and in general, immersing themselves in a rich and fun cultural experience.
2) Global Citizen Festival
Credit:- TRIADIC
The philanthropic festival commenced a decade ago with an aim to end global poverty. The curator of this ginormous event is Chris Martin who is Coldplay's lead vocalist and the event hosts some of the famous personalities of Hollywood and Bollywood. Undeniably one of the best events in the city, artists like Jay Z, Coldplay, Demi Lovato, and the legendary A.R. Rahman have performed here. If given a chance, this should not be missed. 
3) Mumbai International Film Festival
The Mumbai International Film Festival is one of the largest and oldest film festivals for non-feature films in South Asia. This week-long fiesta is planned by the Ministry of Information & Broadcasting. It celebrates short fiction, documentaries and animation films from all over India. The prize money is a whopping Rs. 1 million, for the winner of the Golden Conch Award for the Best Documentary Film. 
4) Ganesh Chaturthi
The light and festive vibes exuded by this city in the month of August during the Ganesh Chaturthi week are hard to be matched by any other festival. The scale at which Ganesh Chaturthi is celebrated is mammoth- the streets are one big party. Every nook and corner of Mumbai is lit up with decorations and lights, right from welcoming Lord Ganesha to immersing him in the sea. This festival was made popular by freedom fighter, Lokmanya Gangadhar Tilak who transformed it into a public event to amass India's unity. The festival lasts a week, and is characterised by pandals, hymns, prayers, performances and a celebratory buzz in the air. 
5) Oktoberfest Mumbai
A non-religious, non-cultural and just-fun festival of Mumbai is the Oktoberfest. This festival is all about beer, food and great music, As the name gives it away, Oktoberfest takes place in the month of October. This party extravaganza lasts for six days and is held at numerous prominent places in Mumbai such as the JW Cafe, The White Owl, ImBiss and Woodside Inn. 
6) YouTube Fanfest Mumbai
YouTube Fanfest is a perfect platform to celebrate rising YouTube stars. One of the most anticipated and exciting Mumbai festivals attracts budding talent from India and abroad. For those who like stand-up comedy gigs, and root for young artists, this one is for you. Some key performers in the past have included popular YouTube personalities such as Aksh Bhagla, Be Younick, Ashish Chanchlani, Collins Key, Bhuvan Ram, Gabbie Hanna, Matt Stefania and the likes. 
7) Krishna Janmashtami & Dahi Handi festival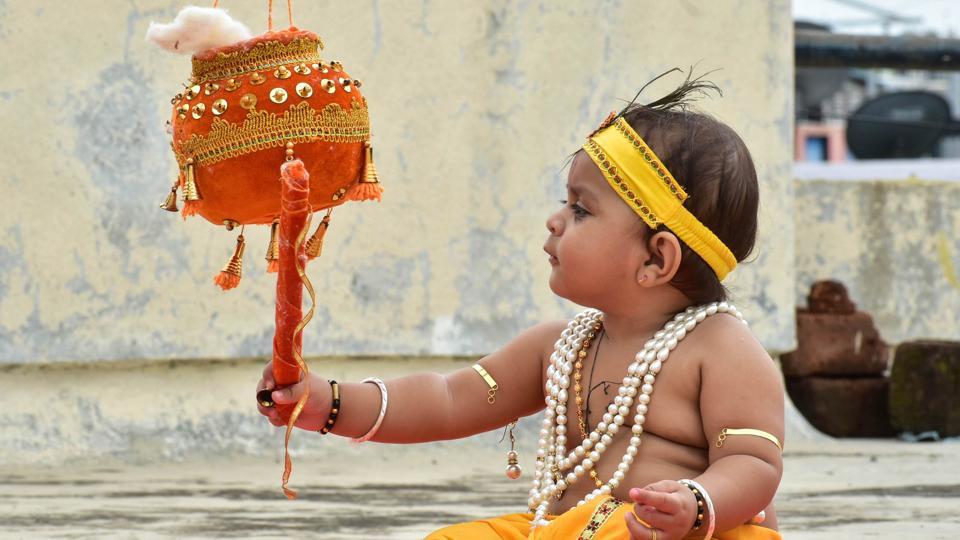 Credit:- Hindustan Times
As per the Hindu Mythology, Janmashtami honours Lord Krishna's birth. This festival is important to the city and you will see kids dressed up as Krishna and Radha. The ISKCON temple is lit up and exudes festive vibes and holds special prayers till midnight. Janmashtami is rarely seen being celebrated with such fervour and enthusiasm in other cities. Also known as the Govinda festival, Dahi handi competitions are organized by societies where people climb on top of one another with an aim to mimic Lord Krishna stealing butter. These Dahi handi events are very popular and the winning team gets a handsome prize as well. 
8) Holi Festival in Mumbai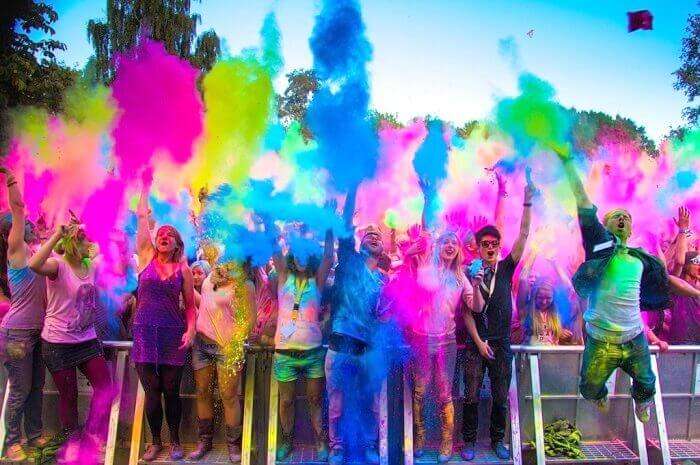 Credit:- Travel Traingle
The Holi celebrations in Mumbai, are also in the inimitable category. Very few celebrations come close to the Holi celebrations in this city! The vivacious colours, mouth-watering food, peppy performances by DJs and unrestricted fun, all combined is synonymous with Holi. 
9) Ramadan Eid-ul-Fitr 
Eid-Ul-Fitr is celebrated with traditional jollity and gusto across the city of Mumbai. The month-long celebration kicks off with the commencement of Ramadan and each night is a feast at Mohammad Ali Road and other parts of the city. After Iftaar, you get some of the best delicacies here; from phirni, malpua and falooda to mouth-watering kebabs, gravies and maida rotis. Every night is a celebration at Mohammad Ali Road, Bhendi Bazaar and multiple streets in Mahim. If you are in the city during the month of Ramadan, try and visit a few of these places to eat post-Iftaar, and revel in the festive vibes. 
Mumbai is also full of great educational institutes and is known as the finance hub of the country. Just like the numerous festivals, there are a number of PGs in Mumbai for students and young professionals who move to the city for the first time to study or work. your-space offers some affordable and comfortable housing options in their PGs for boys and PGs for girls in Mumbai. Commuting can be a big pain in Mumbai so we have strategically ensured that our PGs in Andheri, Girls Hostel in Kurla  and other your-space Mumbai girls' hostels are strategically located next to educational and commercial hubs. While you enjoy the city life, we take care of your needs in a home-away-from-home.