11 Instagram Reel Ideas for Promotion
July 23, 2022 | 6:40 PM
By your-space
Instagram reels are a great way to ensure top-of-the-mind recall among your customers. With over one billion active users on this social platform, chances are, a huge chunk of your target audience is right here. It is wise to use a platform where your intended customers are already present rather than diverting them where you think is great; no wonder even the biggest and most traditional brands have jumped the Instagram reel bandwagon. 
The presence of your customers combined with the engagement, trust, and connection that videos offer, will help you realise why Instagram reels are the best marketing tool for promotion.
Instagram reels is a feature offered by Instagram where you shoot, edit, and share videos for up to one minute. They are a sophisticated version of TikTok, because of the superior video processing and editing tools. You have the option to overlay music, alter the speed, add special effects, and do a lot more. 
If your account is a public account, your reels can be viewed by any Instagram user and they also have the option to use the audio track and create their own reel. Here are a few ways to make the most of those Instagram reels: 
1)Use the songs that are trending 
Every few weeks, new songs trend and that is a great way to capitalise on the reels. The top trending numbers for the past couple of weeks are As It Was by Harry Styles, Come With Me by surfaces, Jiggle Jiggle by Duke and Jones, Love Tonight Remix by Shouse, Sway by Michael Bublé, Chaand Baaliyan by Aditya A, We Are Only Getting Older by One Direction and so on. Without the right music, reels are incomplete and are unable to engage the right audience. A viral trend or trending song can do wonders for your promotion. 
2)Use closed captions along with music
When you use a song, your reel gets exposed to that particular song's tag. It plays the same role as hashtags but has the potential to increase your reach way more. However, there are a lot of users who do not keep their sound on, for them captions are a must. Closed captions are a great way for users to engage with reels even if they have shut the sound. 
3)Tag pertinent accounts
When you are using Instagram, it is always encouraged to tag other relevant accounts to get more reach. If they like your content, they may repost it, thereby increasing your reach. Don't randomly tag other accounts, only do so if your message is relevant to them. 
4)Publish the reels on your feed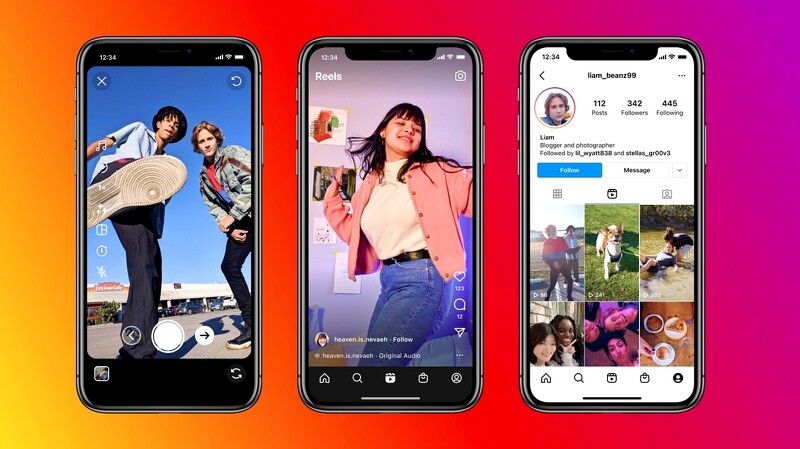 When you post a reel on the reel platform, it organically shows up on your Reels tab. However, there is also an option to publish it on your feed which is the preferred practice for better engagement. A tip to incorporate here is to place the words/ captions at the centre of the video so that wherever you share, the words do not get cut off. 
5)Recreate your old stories and posts into reels
Since reels have only recently begun to gain so much popularity, it may get difficult to produce extensive new video content. It is a good idea to repurpose old posts and stories and create 15-30-60 second videos for Instagram reels. If you did an amazing project a few months ago or travelled to some part of the world, combine all the photos into the Instagram reel with some cool captions and a song.
6)Add titles to the Reel cover photos
When you are making a reel, you are asked to choose a cover photo; make sure to give a title to the reel when you do so. This makes it easier for users to navigate the reels tab and easily select the topic they are interested in. For instance, if we are making reels on our Instagram page, we would sort them using the titles 'your-space PG in South Mumbai, your-space PG in Vile Parle, your-space Girl's PG in Kalina, and so on. This will make it easy for people looking for accommodation in specific areas to only see what is relevant to them. Giving a title is a must! 
7)Share tips and answer common questions
Everyone is looking for some tips, before actually getting down to the main business. Before directly pushing yourself as a business, share some useful tips or answer some frequently asked questions. Create a tutorial and share your expertise. So, say for us at your-space – 'What to expect in a new city', 'five things to not do in a PG', 'FAQs by first-time PG seekers' are relevant tips to share with our intended audience. Not only is this relevant to your audience but gives a lot of material to generate content for reels. 
8)Share success stories and customer testimonials 
Reviews build trust and adding them to your reels is a fun way to get the message out to your audience. Request your happy customers to do a 15 to 30-second video on why they love you, tag them, and ask them to repost the same. This is a great way to build trust and expand reach.
9)Feature your team
Make your team and employees a part of your reel journey. Everyone loves the real human touch in content. Showcase their love for the job, ask them to share tips based on their expertise, what do they love about working with you, etc. People like to build a connection with brands and this is the perfect way to do that while bringing forth your company's values. 
10)Provide useful tutorials and checklists
Show the world how you are different from the rest of the businesses by producing reels for each service or product your business offers. Show users how they can leverage each thing to improvise their lives. Share checklists – best marketing strategies to grow your business, things to avoid when setting up a business, best ways to use Instagram reels, etc. People live with lists and easy ways to absorb information. 
11)Don't forget the before-and-after reels
You can record someone's transformation journey – from day 1 to day 100 what changed? Or just take pictures at every milestone and then create and then and now reel highlighting the step-by-step transformation. Reels are the perfect way to showcase a makeover montage. 
Last but not least, talk about the privileges of being on your email list and encourage them to subscribe. What deals are you offering to your subscribers – exclusive access, early bird offers, sign-up offers, etc. All of these reel ideas are bound to improve your reel presence and ensure you have the best reels on the block!