Best Restaurants in Pune to Explore with Your PG Gang
July 21, 2022 | 6:04 PM
By your-space
Pune is one of the most vibrant cities in India. You will find a lot of students and young professionals from all over the country owing to the rapid urbanization and some of the best educational institutions here. In addition, Pune is on its way to becoming the next big IT hub in the country. Thus, to cater to the young generation, areas like Balewadi, Koregaon Park, Aundh, and Camp Area are burgeoning, with some of the coolest cafes and restaurants to explore. 
A lot of these places offer delectable food and beverages at affordable prices. Like how your space is about affordability without compromising on amenities and security, these restaurants and cafes will also ensure a great gastronomical experience without pinching your pocket. Yes, we have that in common. Check out our your-space rooms in Tathawade, Viman Nagar Hostels, PG in Katraj, and PG in Karve Nagar Pune's most incredible locations to get the best living experience away from home.
Here are a few fantastic restaurants in Pune to explore with your PG gang:
Café Peter Donuts
For those of you residing in our Viman Nagar Hostels or PG in Karve Nagar, Pune, Café Peter is situated at multiple locations in the city and is an amazing hang-out joint for you and your gang. A hard-to-miss red and black ambiance makes it even better for those unique Instagram backdrops. Everything is immersed in these two bold colours, from the red brick walls to the other interiors like sofas, tables, and cushions! Did we mention their doughnuts are to die for? Try their juicy steaks, cream cheese garlic ramen, freshly squeezed juices, freshly brewed coffees, and milkshakes. Don't forget to avail your 10% student discount. 
Third Wave Coffee Roasters
Are you even a coffee lover connoisseur if you haven't enjoyed multiple lattes and iced americanos at third-wave coffee roaster? Each time you refer a friend and they get a drink, you get a free coffee. And on each spend, you get a 10% redemption in the form of coins which you can use to buy coffee when you've collected enough. Enjoy a hot cuppa and collect those coins when you run out of pocket money for the month. Take a dip in the heavenly aroma of the freshly brewed coffee and choose from their curated coffee variants, such as French Press, pour-overs, Aeropress, and other classic concoctions. Do grab a mushroom and cheese croissant or a cream cheese bagel. 
Vaishali, Fergusson College Road
If you are a South Indian foodie, Vaishali is your vegetarian paradise. Be prepared to stand in line because you are definitely not getting a table quickly. You will know it is worth the wait when you bite into that crispy vada, fluff idli, and fresh dosa. Want to go on a trip with your flatmates to Tamil Nadu but can't afford it? No problem, head over to Vaishali for a similar experience. 
Nisarg, Erandwane
Seafood is something that bonds like none other. You are at your messiest and greediest when served the fresh catch of the day in some sumptuous Malvani, Mangalorean, and Goan curries. Satisfy your seafood cravings and down all that yumminess with Sol Kadhi, a kokum-infused coconut drink. 
German Bakery, Koregaon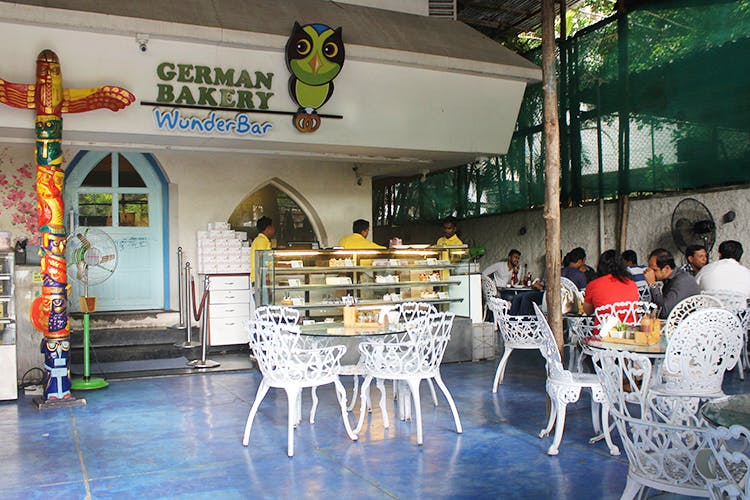 Image Credit:- LBB
This legendary baker met with an unfortunate accident in 2010 but has bounced back even better since then. It is the second oldest German Bakery in the country and one of the most popular cafes in Pune. Sunday brunch with your friends is a must at this popular spot. Get spoilt for choice with a range of delectable pasta, coffees, cakes, bun maska, paninis, and more. 
Fat Cats Cafe, Wanowrie
Fat Cats Café was envisioned by the owner when she was just a child aged 8. The idea behind the name is a satiated fat cat who has committed gluttony and chosen to curl up and get cosy. This café has brought her vision to life in its most accurate form. Take a break from the hustle and bustle, head to this peaceful area with your friends and flatmates, and enjoy some comfort food. 
The French Window Patisserie, Koregaon
If you haven't been to Paris, at least try and get a feel of it in your very own city. The aroma of freshly baked croissants and bagels will mesmerize you and make you fall in love with the Parisian vibe of the place. Be it a breakfast date or brunch with the crew; this place won't disappoint; enjoy their five-course meal under a canopy of trees.
Shizusan, Viman Nagar
Those who stay at our Viman Nagar Hostels are at an advantage because of their proximity to Shizusan, which is another exceptional place for dinner in Pune. Fill up your bellies with dimsums, sushi, braised pork belly, and everything oriental at this Asian bistro. If you are one to experiment, do have their Green-Tea Infused Tiramisu. 
Mahlzeit, Koregaon Park
The restaurant name and most dishes will be tough to pronounce, but the taste and comfort offered by these generous portions will fill your heart (and stomach). One of the few restaurants in the city serving German food, this café is a definite must-try with your gang. Go slow on the number of dishes you order because the portion sizes are enormous. Must tries here are Bratwurst, Bratkartoffel Döner Kebab, Currywurst and Bratkartoffeln. 
Dario's, Koregaon Park
For a mouth-watering Italian gastronomical experience, Dario's is a must-visit. This quaint, cosy little joint serves the most authentic and delicious Tortellini with Spinach and Ricotta, Penne Aglio Burro Formaggio, Gnocchi with Sage Butter, and Etnea Pizza. If you are looking for comfort food and warm hospitality, head over to this place.
Pune has a little something for everyone; just like we at your-space cater to your accommodation needs according to your budget and preference. Check out our PG in Karve Nagar Pune, Rooms IN Tathawade, Viman Nagar Hostels, PG in Katraj, or PG in any other location to experience a comfortable stay.