11 Famous Festivals in Delhi
May 26, 2023 | 8:40 PM
By your-space
Delhi, the capital city of India, is a melting pot of diverse cultures, traditions, and religions. This vibrant city boasts a rich history and a dynamic present that is reflected in its numerous festivals. From the vibrant colours of Holi to the glittering lights of Diwali, festivals in Delhi are a celebration of life and a reflection of its multicultural identity. The city is home to several other festivals that showcase its rich cultural diversity. From the Sikh festival of Baisakhi to the Muslim festival of Eid, all festivals in Delhi have a unique story and significance. In this blog, we will take a closer look at 11 famous festivals in Delhi that celebrate its rich heritage and multicultural identity. Here is a list of the 11 most famous festivals in Delhi:
Diwali

Eid-al-Fitr

Holi

Navratri/Durga Puja

Guru Nanak Jayanti

Christmas

Maha Shivratri

Janmashtami

Lohri

Eid-al-Adha

Baisakhi
Check out your-space hostels in delhi for students
Diwali:
Diwali, also known as the Festival of Lights, is one of the biggest and most widely celebrated festivals in Delhi. The city transforms into a spectacle of vibrant colors and dazzling lights during this auspicious occasion. Preparations begin weeks in advance, with homes and streets adorned with decorative lights, diyas (earthen lamps), and rangoli (colourful patterns made with coloured powders or rice). Delhiites engage in thorough cleaning and beautification of their homes to welcome Goddess Lakshmi, the deity of wealth and prosperity. The festival is marked by family gatherings, exchanging gifts, and feasting on traditional sweets and delicacies. Fireworks light up the night sky, filling the air with crackling sounds and vibrant displays. 
Eid-al-Fitr:
Next on the list of the top festivals in Delhi is Eid-al-Fitr. Known as "Meethi Eid" or the Sweet Festival, it is celebrated with great enthusiasm and religious fervour in Delhi. The city comes alive with a vibrant atmosphere as Muslims gather to mark the end of Ramadan, the holy month of fasting. In Delhi, the celebrations commence with early morning prayers at mosques, followed by gatherings of families and friends. People dress in their finest traditional attire and exchange greetings of "Eid Mubarak." Generosity and charity are central to Eid-al-Fitr, and people give Zakat al-Fitr (charitable donations) to the less fortunate, ensuring that everyone can partake in the festivities.
Holi:
Holi, the festival of colours, is another one of the biggest and most grand festivals in Delhi. The city comes alive with vibrant hues as people of all ages and backgrounds indulge in joyful revelry. Holi in Delhi is a truly exuberant and inclusive celebration. The festivities typically begin with a Holika Dahan (bonfire) on the eve of Holi, symbolizing the victory of good over evil. On the day of Holi, people gather in streets and open spaces, armed with coloured powders and water-filled balloons. They playfully smear each other with vibrant colours, laughing and dancing to the beat of drums and traditional music. Communities organize Holi events and parties, where people come together to celebrate and enjoy traditional sweets and snacks. Bhang, a traditional intoxicating drink made from cannabis, is also consumed in moderation during Holi.
Navaratri/Durga Puja:
Navaratri and Durga Puja are celebrated with great devotion in Delhi, creating a vibrant atmosphere that showcases the rich cultural heritage of the city. The festivities revolve around the worship of Goddess Durga and the triumph of good over evil. During Navaratri, which translates to "nine nights," Delhi witnesses numerous vibrant and beautifully decorated pandals (temporary structures) dedicated to Goddess Durga. These pandals house intricately crafted idols of the goddess, adorned with jewellery and traditional attire. Devotees gather to offer prayers, sing devotional songs, and participate in traditional dances like Garba and Dandiya-Raas. The climax of Navaratri is marked by Durga Puja, a grand celebration that spans several days. Elaborate rituals, cultural performances, and feasts take place at community pandals, making this one of the most royal-feeling festivals in Delhi. The idols are worshipped with great reverence, and on the last day, they are immersed in water, symbolizing the goddess' return to her heavenly abode.
Guru Nanak Jayanti: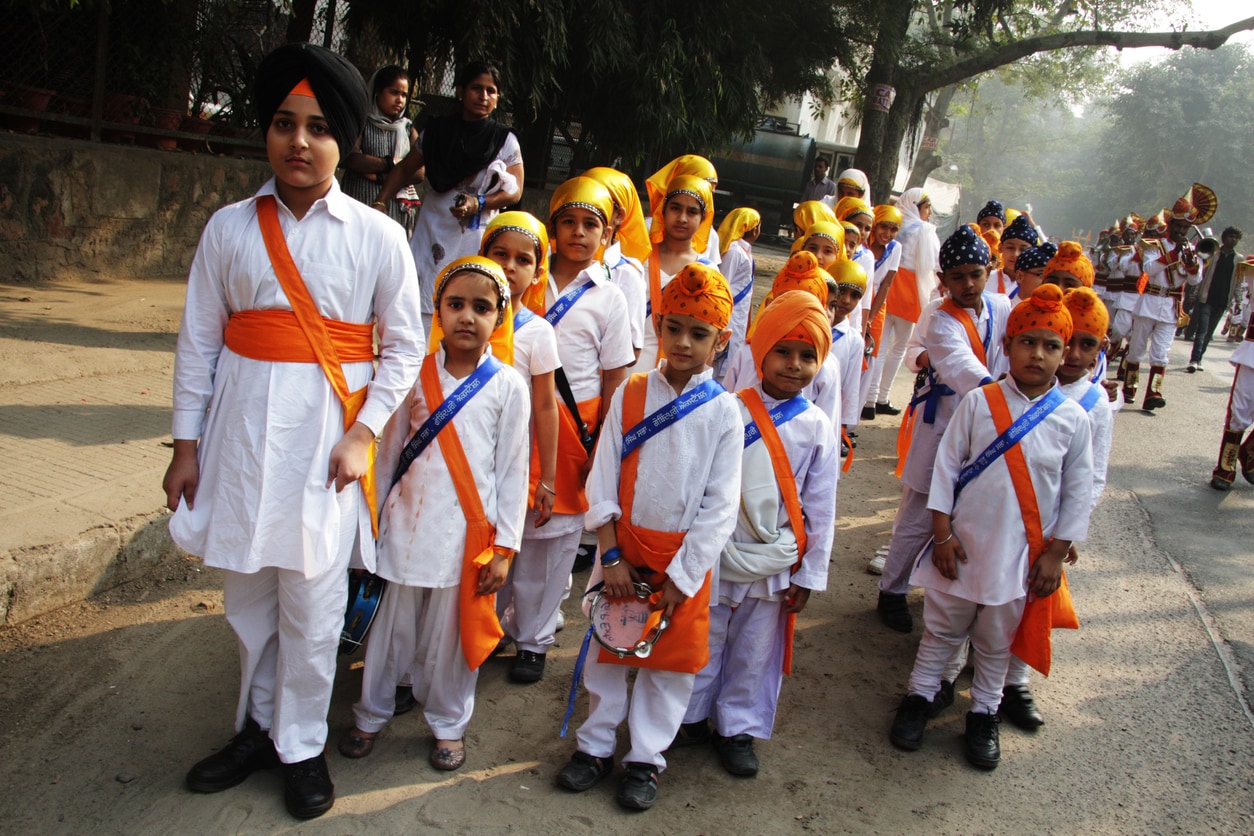 Guru Nanak Jayanti is the next on the list of the most beautiful festivals in Delhi. On this day, the birth anniversary of Guru Nanak Dev, the founder of Sikhism, is celebrated with immense reverence and devotion in Delhi. The festivities begin with early morning processions known as Nagar Kirtans, where devotees sing hymns and carry the Sikh holy book, Guru Granth Sahib, on beautifully decorated floats. The procession makes its way through the streets of Delhi, spreading the message of peace, unity, and equality. Gurdwaras (Sikh temples) are adorned with lights and decorations, and special prayer services and langars (community meals) are organized, offering free food to all visitors, regardless of their caste, creed, or religion. The celebrations in Delhi are marked by deep spiritual reflection and a sense of communal harmony.
Christmas: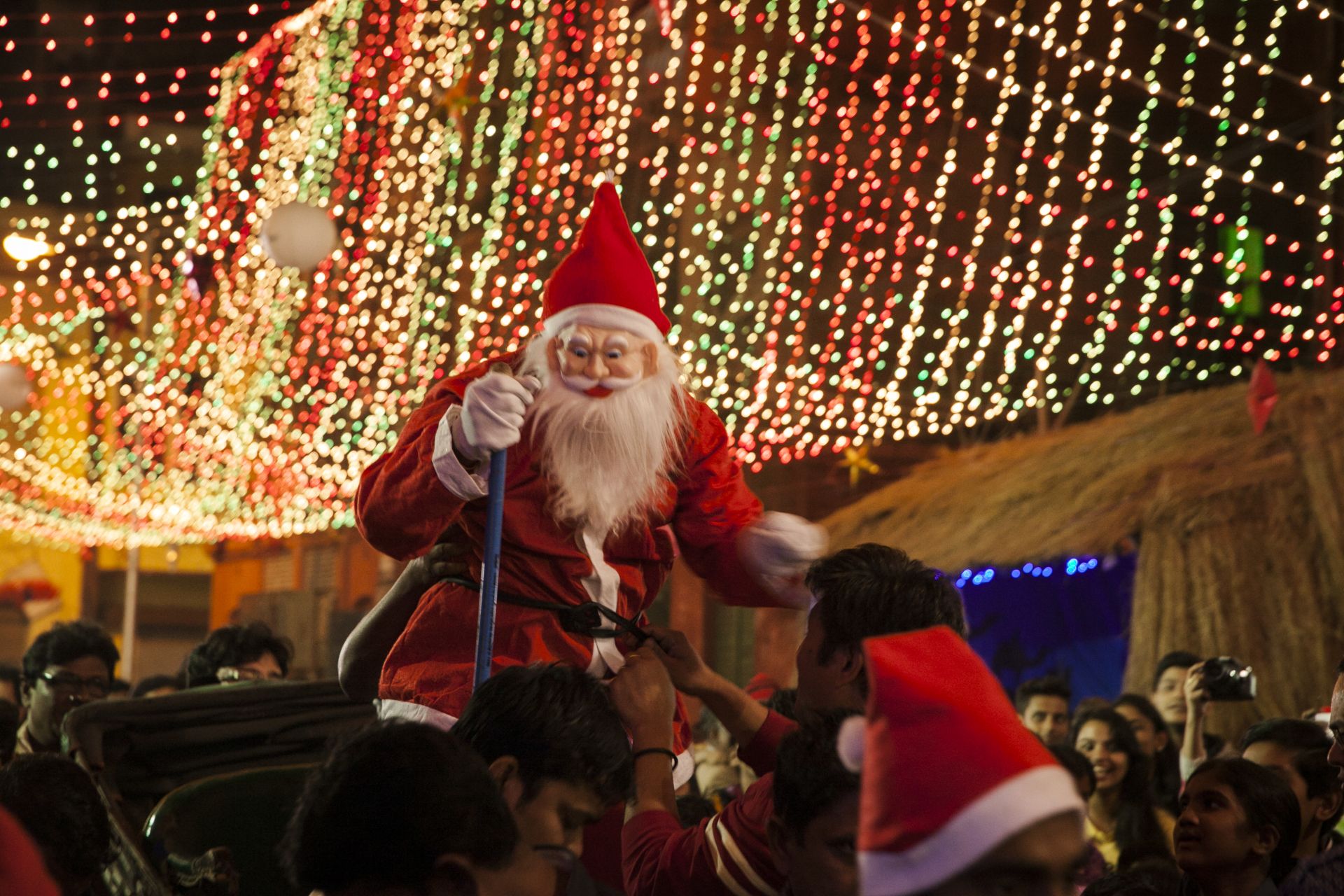 Christmas, a popular Delhi festival, marks the birth of Jesus Christ and is celebrated with joy and enthusiasm in the city. The Christian community, as well as people from various backgrounds, come together to celebrate this auspicious occasion. Churches in Delhi are beautifully decorated with lights and ornaments. Midnight Mass services are held, where people gather to sing carols and offer prayers. Families exchange gifts, share meals, and enjoy traditional Christmas delicacies. The city also hosts Christmas markets, where one can find decorations, crafts, and delicious treats. Christmas in Delhi is a time of warmth, goodwill, and spreading the message of love and peace. To witness the best Christmas celebrations in Delhi, here are a few places you can visit:
Sacred Heart Cathedral, Connaught Place

St. Thomas' Church, Civil Lines

St. Mary's Orthodox Cathedral, Hauz Khas

Select Citywalk Mall, Saket

Dilli Haat, INA
Maha Shivaratri:
Maha Shivaratri, a significant Hindu festival dedicated to Lord Shiva, is celebrated with great devotion in Delhi. Devotees throng to various Shiva temples across the city, such as the Birla Mandir and Kalkaji Temple, to offer prayers and seek blessings. The temples are adorned with flowers and lights, creating a spiritual ambience. Throughout the day and night, special ceremonies and rituals take place, including abhishekam (ritual bathing) of Shiva Linga and continuous chanting of Shiva mantras. Devotees observe fasts and engage in meditation, seeking spiritual enlightenment. Maha Shivaratri in Delhi is a time for deep introspection, devotion, and connecting with the divine energy of Lord Shiva.
Janmashtami: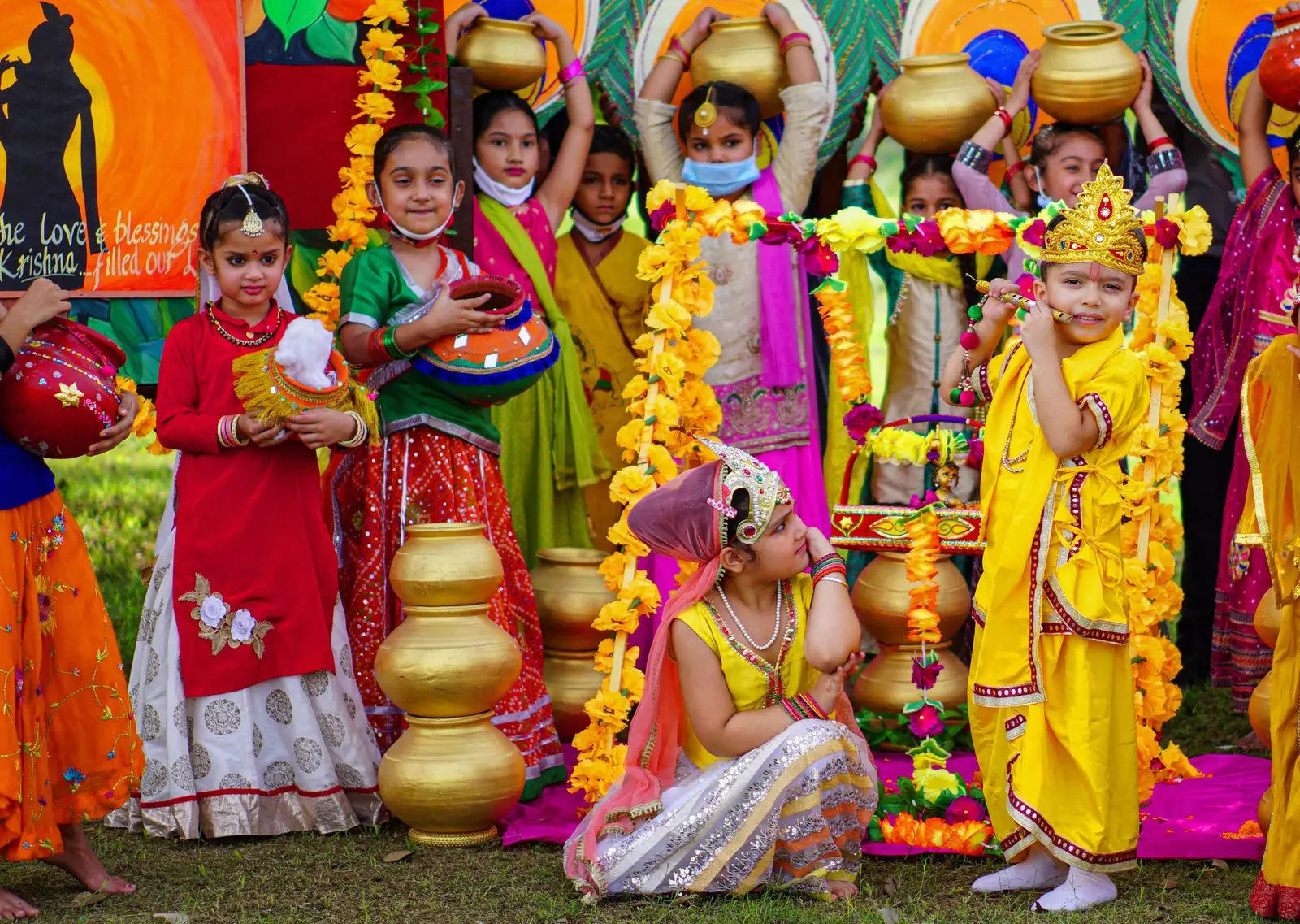 Janmashtami, another grand Delhi festival celebrates the birth anniversary of Lord Krishna. Temples across the city, such as the famous ISKCON Temple and the Krishna Balaram Mandir, are adorned with decorations and lights. Devotees gather to chant devotional songs and perform bhajans (devotional songs) in praise of Lord Krishna. The temples organize various cultural programs, including dance performances and play depicting the life of Lord Krishna. It is one of those festivals in Delhi that are celebrated day and night! The festivities culminate at midnight, the time of Lord Krishna's birth, with special prayers and aarti (rituals) followed by feasting on delicious vegetarian food and sweets. Janmashtami in Delhi is a time of deep devotion and joyful celebration of Lord Krishna's divine presence.
Lohri:
Lohri, another one of the popular Punjabi festivals in Delhi, is celebrated with immense enthusiasm in the city, especially in Punjabi communities. Bonfires are lit in neighbourhoods and public spaces, where people gather to sing folk songs, perform traditional dances like Bhangra and Giddha, and share joyful moments. Lohri marks the end of winter and the arrival of longer days, and the festivities include the distribution of popcorn, peanuts, and sweets. People exchange greetings, offer prayers for a bountiful harvest, and enjoy traditional Punjabi delicacies. Lohri in Delhi showcases the vibrant Punjabi culture and brings together people from different backgrounds to celebrate the spirit of unity and warmth.
Eid-al-Adha: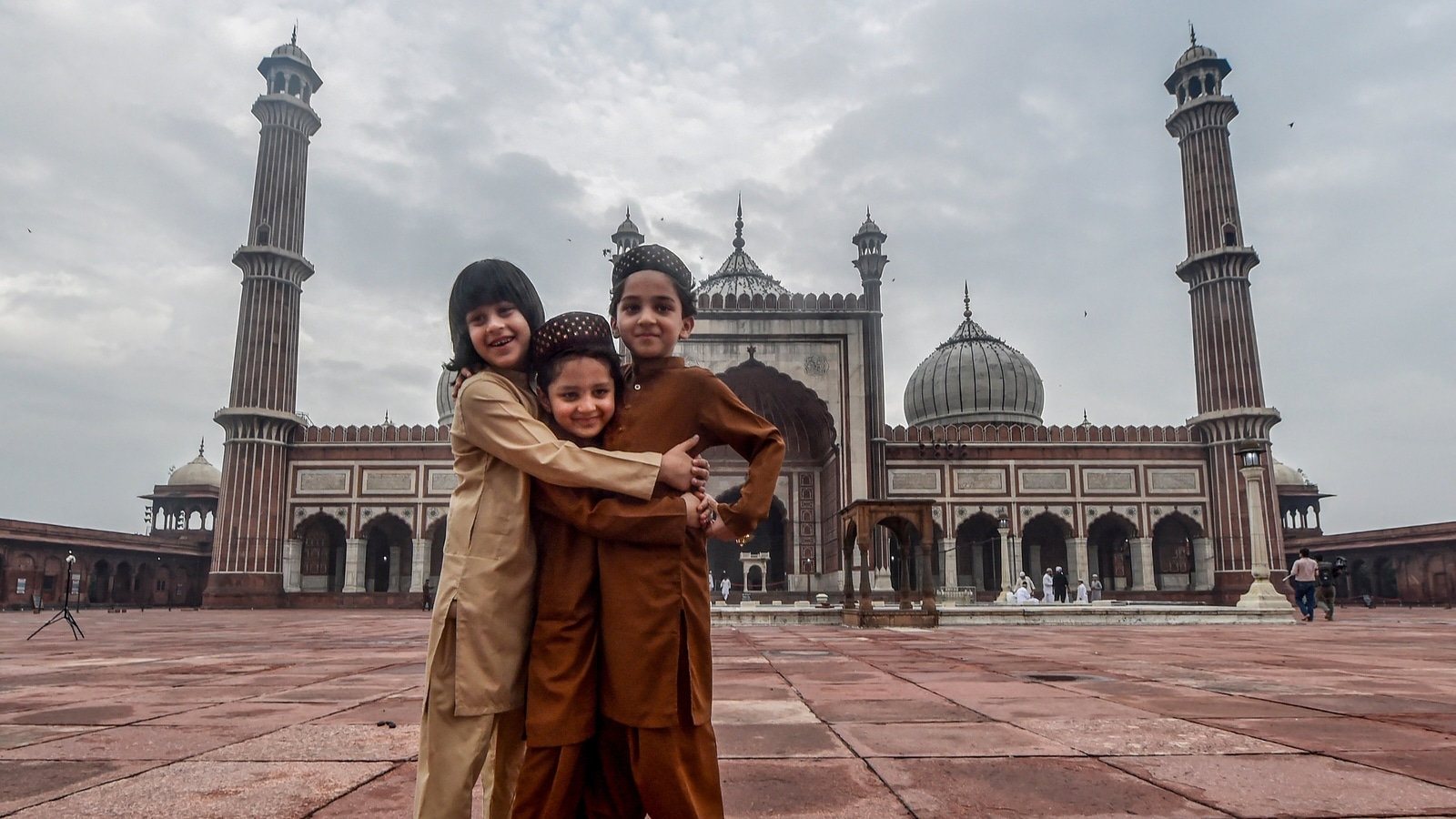 Eid-al-Adha, also known as Bakrid or the Festival of Sacrifice, is celebrated widely across the country and in Delhi. The Muslim community comes together for morning prayers at mosques and open grounds, dressed in their finest attire. The festival commemorates the willingness of Prophet Ibrahim (Abraham) to sacrifice his son as an act of obedience to God. After prayers, families gather to sacrifice animals, typically goats or sheep, as a symbolic act. The meat is then distributed among family, friends, and the less fortunate. The day is also marked by feasts, sharing meals, and exchanging greetings of Eid Mubarak, fostering a sense of generosity, unity, and gratitude. The best places to have Biryani around this time in Delhi include Karim's, Al Jawahar, Biryani By Kilo, Dil Pasand Biryani Point, and The Biryani Project.
Baisakhi:
Baisakhi, a significant harvest festival celebrated by the Sikh community, is observed with great excitement in Delhi. The festivities kick off with Nagar Kirtans (religious processions) where devotees sing hymns and showcase their devotion. Gurudwaras, such as the iconic Gurudwara Bangla Sahib and Gurudwara Sis Ganj Sahib, are beautifully decorated. Special prayer services, kirtans (devotional singing), and langars (community meals) are organized, where devotees and visitors are served delicious vegetarian food. Cultural programs, folk dances, and martial arts displays are also held to celebrate the rich Sikh heritage. Baisakhi festival in Delhi is a joyous occasion, that promotes unity, gratitude, and community service.